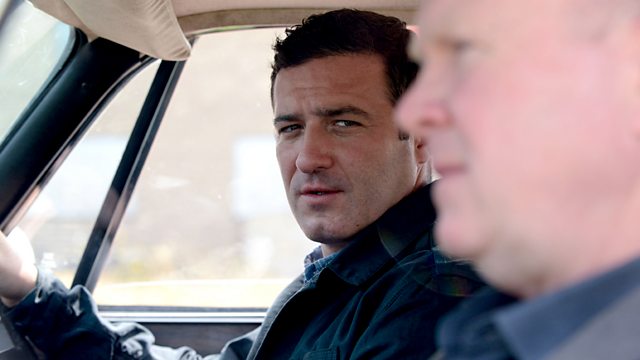 03/09/2013
Shirley warns Phil that the clock's still ticking. Phil takes his frustrations out on Jay and Dexter. Jay advises Phil against working with Carl, but Phil ignores him. Phil promises to pay Shirley later. Max also warns Phil against dealing with Carl. Phil won't listen. Meanwhile, Carl locks the glove box of his car, before he and Phil and Carl head off. As the car speeds along, Carl tells Phil that the paperwork is in the glove box. Phil struggles to open it. Carl claims it's stiff and leans across to help, violently swerving to avoid a lorry. The car veers off the road and crashes. Phil flies through the windscreen and lies, lifeless, across the bonnet.
Max is convinced that Carl scuppered his deal. Jack's in no mood for celebrating his birthday when Roxy tells him Ronnie's getting out of prison. Lauren's fed up working at the car lot. Max enquires elsewhere, but Denise and Ian refuse to have Lauren around alcohol. Having learnt of Ronnie's release from Roxy, Max plans Jack a surprise party in the Vic. After realising Carl sent the flowers and champagne, Kirsty's convinced it's for old times' sake as 6 years ago today would've been their wedding day. Max doesn't buy it. When Dot tips him off about his surprise party, Jack paints on a cheery smile and enters the Vic to cheers from the Brannings.
Kitty's persistently calling Jay. Dexter's unimpressed that Jay's not told Abi about the kiss. Abi tells Lola about her pregnancy scare and worries that Jay's ignoring her. On Lola's advice, Abi talks to Jay who promises the events of last week are behind them. Dexter continues to badger Jay, who eventually calls Kitty, insisting she can't contact him again. Suddenly the Arches door slams – who overheard Jay? Worried, Jay emerges to find a disgusted Lola hurrying away, intent on telling Abi the truth.
Danny's organized a sponsorship with a football team. Not to be outdone, Michael devises a sports massage scheme with Sadie at Beauty.
Last on
Credits
| Role | Contributor |
| --- | --- |
| Phil Mitchell | Steve McFadden |
| Carl White | Daniel Coonan |
| Max Branning | Jake Wood |
| Kirsty Branning | Kierston Wareing |
| Jack Branning | Scott Maslen |
| Roxy Mitchell | Rita Simons |
| Carol Jackson | Lindsey Coulson |
| Lauren Branning | Jacqueline Jossa |
| Dot Branning | June Brown |
| Abi Branning | Lorna Fitzgerald |
| Jay Brown | Jamie Borthwick |
| Lola Pearce | Danielle Harold |
| Dexter Hartman | Khali Best |
| Janine Butcher | Charlie Brooks |
| Jake Stone | Jamie Lomas |
| Danny Pennant | Gary Lucy |
| Michael Moon | Steve John Shepherd |
| Sadie Young | Kate Magowan |
| Denise Fox | Diane Parish |
| Ian Beale | Adam Woodyatt |
| Shirley Carter | Linda Henry |
| Executive Producer | Lorraine Newman |
| Director | Michael Owen Morris |
| Writer | Rob Gittins |