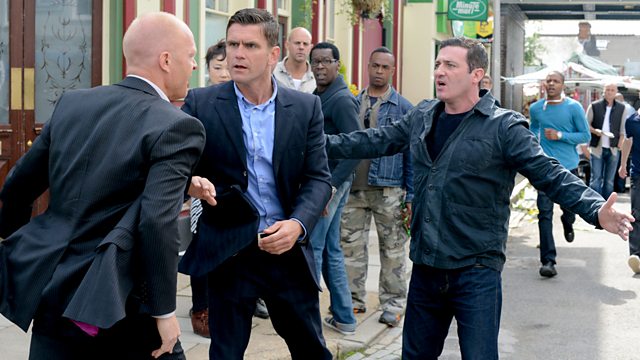 02/09/2013
When mysterious flowers arrive at the house, Max confronts Carl. Carl smirks that Kirsty would've had the same flowers, irises, at their wedding - 6 years ago tomorrow. Kirsty assumes Max sent them. At the car lot, Jack negotiates a big deal. Carl demands more money from Ian and tries to involve Phil in a dodgy car deal. He's tempted, but declines. On the Square, Max worries to see Carl approach Lauren, who later finds a bottle of champagne at the car lot. Under pressure from Shirley for money, Phil changes his mind about Carl's deal – he's in. Jack and Max close their deal at the car lot. Jubilant, they head off to celebrate when Max gets a phone call – the deal's off. Furious, Max rounds on Carl who wonders what, or who, Lauren would do for a drink. Max threatens to kill Carl.
Jake invites Lauren to a group counselling session. After, he tells her his story over tea. Lauren mentions Jake's wedding ring. He admits he and his wife are trying to make things work. Lauren tells Jake she couldn't cope with her parents' divorce. Lauren's pleased when Jake insists he'll pay for the tea next time.
Shirley announces she wants to run a bar in Greece, hoping Phil will fund her dream. Phil refuses. Jean gets upset about Ollie, and is about to ring him when Shirley pipes up that she's a mug if she lets a man hurt her again. Kat deduces that Phil must've turned Shirley down, but Shirley insists she'll take the money instead. When Kat asks Roxy when Ronnie's getting out of prison; she announces Ronnie's being released on Monday.
It's the kids' first day back at school. En route, Liam meets Cindy and is smitten. Kat makes Bianca consider what she'd do if she wasn't working on the market.
After returning the car to Bob, Phil refuses to pay Dexter's wages until the £10,000 is repaid. Dexter's frustrated, but buoyed when Abi, Peter and Jay agree to help pay Phil back. Peter reports Cindy's broke so can't help. Lola's reluctant but eventually agrees to contribute.
Last on
Credits
| Role | Contributor |
| --- | --- |
| Max Branning | Jake Wood |
| Carl White | Daniel Coonan |
| Jack Branning | Scott Maslen |
| Kirsty Branning | Kierston Wareing |
| Lauren Branning | Jacqueline Jossa |
| Jake Stone | Jamie Lomas |
| Kat Moon | Jessie Wallace |
| Jean Slater | Gillian Wright |
| Roxy Mitchell | Rita Simons |
| Shirley Carter | Linda Henry |
| Phil Mitchell | Steve McFadden |
| Bianca Butcher | Patsy Palmer |
| Liam Butcher | James Forde |
| Abi Branning | Lorna Fitzgerald |
| Dexter Hartman | Khali Best |
| Jay Brown | Jamie Borthwick |
| Lola Pearce | Danielle Harold |
| Peter Beale | Ben Hardy |
| Ian Beale | Adam Woodyatt |
| Cindy Williams | Mimi Keene |
| Morgan Butcher | Devon Higgs |
| Tiffany Butcher | Maisie Smith |
| Christine | Louise Bailey |
| Executive Producer | Lorraine Newman |
| Director | Michael Owen Morris |
| Writer | Peter Mattessi |