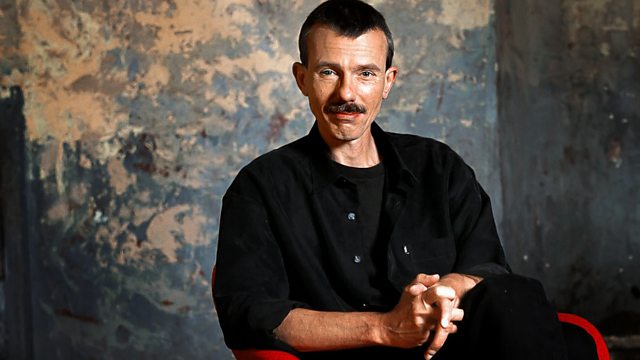 08/09/2013
Jonathan Swain presents a concert given by the Sao Paulo Symphony Orchestra in the Concert Hall, Sao Paulo, featuring Berio, Beethoven and Schumann.
1:01 AM
Berio, Luciano [1925-2003]
Quattro versioni originale della Ritirata notturna di Madrid di Luigi Boccherini
Sao Paulo Symphony Orchestra, Carlo Rizzi (conductor)
1:08 AM
Beethoven, Ludwig van [1770 -1827]
Concerto for piano and orchestra no. 1 (Op.15) in C major
Andras Schiff (piano), Sao Paulo Symphony Orchestra, Carlo Rizzi (conductor)
1:48 AM
Brahms, Johannes [1833-1897]
Intermezzo no.1 in E flat major, Op.117
Andras Schiff (piano)
1:52 AM
Schumann, Robert [1810-1856]
Symphony no.4 in D minor (Op.120)
Sao Paulo Symphony Orchestra, Carlo Rizzi (conductor)
2:24 AM
Villa-Lobos, Heitor (1887-1959)
Bachianas Brasileiras No.5 (Aria (Cantilena), Dance (Martel))
Isabel Bayrakdarian (soprano), Bryan Epperson, Maurizio Baccante, Roman Borys, Simon Fryer, David Hetherington, Roberta Jansen, Paul Widner, Thomas Wiebe, Winona Zelenka (cellos)
2:36 AM
Bach, Johann Sebastian (1685-1750)
Suite for orchestra no.1 in C major (BWV.1066)
La Petite Bande, Sigiswald Kuijken (conductor)
3:01 AM
Purcell, Henry (1659-1695)
Sonata No.9 for 2 violins and continuo in F major (Z.810) 'Golden' (1697)
Simon Standage (violin), Ensemble Il Tempo
3:08 AM
Vaughan Williams, Ralph (1872-1958)
Symphony no. 5 in D major
BBC Scottish Symphony Orchestra, Andrew Manze (conductor)
3:48 AM
Sibelius, Jean (1865-1957)
Jordens sång (Song of the Earth) (Op.93) (1919)
The Academic Choral Society, The Helsinki Cathedral Chorus, Finnish Radio Symphony Orchestra, Ulf Söderblom (conductor)
4:06 AM
Vivaldi, Antonio (1678-1741)
Trio Sonata in D minor (Op.1 No.12) 'La Folia' (1705)
Florilegium
4:16 AM
Respighi, Ottorino (1879-1936)
Trittico Botticelliano
Winnipeg Symphony Orchestra, Kazuhiro Koizumi (conductor)
4:37 AM
Bruch, Max (1838-1920)
Kol Nidrei (Op.47)
Shauna Rolston (cello), Edmonton Symphony Orchestra, Uri Mayer (conductor)
4:49 AM
Buxtehude, Dietrich [1637-1707]
Jubilate Domino, omnis terra for alto, viola da gamba and continuo (BuxWV.64)
Zoltán Gavodi (countertenor), Sándor Sászvárosi (viola da gamba), Zsuzsanna Nagy (harpsichord), Sonora Hungarica Consort
5:01 AM
Grieg, Edvard (Hagerup) [1843-1907]
Norwegian Dance No.1 (Op.35) for piano duet
Leif Ove Andsnes & Håvard Gimse (piano)
5:07 AM
Debussy, Claude (1862-1918)
Images for orchestra:
Norwegian Radio Orchestra, Ion Marin (conductor)
5:44 AM
Rameau, Jean-Philippe (1683-1764)
Ces oiseaux from Le Temple de la gloire - opera-ballet (Trajan's aria)
Anders J Dahlin (tenor), Les Ambassadeurs, Alexis Kossenko (director)
5:50 AM
Liszt, Franz [1811-1886]
Legende No.1: St Francois d'Assise prechant aux oiseaux (S.175)
Jos Van Immerseel (piano - instrument is an Erard of 1897)
6:00 AM
Salieri, Antonio (1750-1825)
Sinfonia in D major 'Veneziana'
Stavanger Symphony Orchestra, Fabio Biondi (conductor)
6:11 AM
Stravinsky, Igor (1882-1971)
Suite italienne for violin and piano (1925)
Alena Baeva (violin), Giuzai Karieva (piano)
6:28 AM
Lysenko, Mykola (1842-1912)
Cheruvymska (Song of the Cherubim)
Svitych Chorus of the Nizhyn State Pedagogical University, Lyudmyla Shumska (director)
6:32 AM
Grainger, Percy (1882-1961)
Hill-Song No.1
Melbourne Symphony Orchestra, Geoffrey Simon (conductor)
6:45 AM
Beethoven, Ludwig van (1770-1827)
Five Scottish and Irish Folksongs (WoO.152/20)
Stephen Powell (tenor soloist in No.1), Lorraine Reinhardt (soprano soloist in No.3), Linda Lee Thomas (piano), Gwen Thompson (violin), Eugene Osadchy (cello), Vancouver Chamber Choir, Jon Washburn (conductor).
Last on