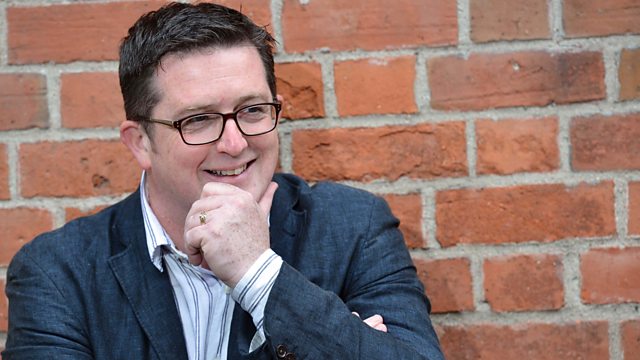 07/09/2013
John Toal celebrates Buddy Holly's 77th birthday by talking to Jerry Naylor of The Crickets plus the 'real Peggy Sue', who talks about her encounter with the rock and roll pioneer.
Last on
Ling with Chowder Style Potatoes and Wheaten Bread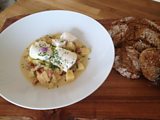 Ling with Chowder Style Potatoes
4 x 175g pieces boneless skinless ling (or any firm white fish like coley, whiting, cod or hake) – ask your fishmonger
4 slices streaky bacon, preferably dry cure
2 large potatoes, peeled and cut into 2cm cubes
1 onion, finely chopped
1 stick celery, finely diced
1 dessertspoon cooking oil
250ml water
75ml double cream
4 chopped scallions
Chopped chives or parsley to garnish
Heat the oil in a large frying pan and add the bacon. Cook until crispy and add the onions and celery. Lower the heat and cook until soft – about 5 minutes. Add the water and potatoes.
Cover with a round of greaseproof and simmer gently until potatoes are just about 5 minutes away from being cooked. At this stage most of the liquid should have evaporated so add the cream.
Add the scallions and place the fish on top. Season the fish with salt and cover with paper.
Cook for 5-10 minutes or until fish is firm. Check seasoning on sauce and spoon into bowls garnished with chopped chives or parsley.
Wheaten Bread
250g wholemeal flour
50g porridge oats
35g brown sugar
Good pinch salt
75g self raising flour
1 and ½ teaspoons baking soda
40g butter
1 tablespoon treacle
75g self raising flour
325ml buttermilk
Set oven to 220˚c.
Place flours, oats, salt, sugar and baking soda in a bowl and mix well.
Melt the butter and treacle and cool.
Make a well in the centre of the dry ingredients and add the buttermilk and treacle mix.
Mix to a dough and turn onto a floured surface.
Knead together and form into a round.
Place on floured baking tray and make a cross in the middle.
Bake for 10 minutes at 220˚c and then lower to 140˚c for a further 30 minutes or until the loaf sounds hollow when tapped.
You can mix rhubarb jam in at the wet stage.
Dough can be divided into smaller scones. As with the loaf, bake for 10 minutes at 220˚c first, then lower to 140˚c, but for a shorter time.