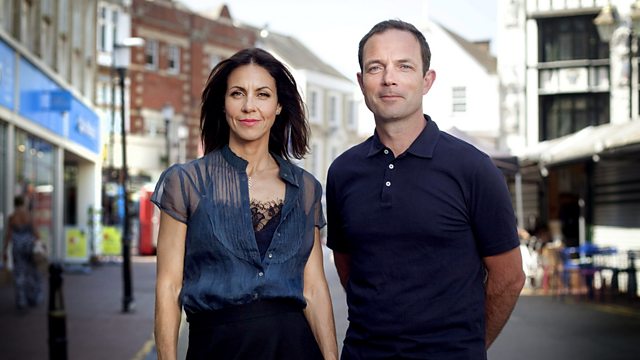 In this episode, we tell the extraordinary tale of a convicted fraudster who went on a spending spree across England using a stolen cheque book. His victims? English publicans from East Anglia to the West Country who accepted his cheques for their fine food and generous rounds of drinks, only to be stung as the cheque bounced a few days later. But the fraudster's luck finally ran out in Devon where one of his landlord victims decided to turn super sleuth to track him down.
In Southend-on-Sea, brother and sister David and Charlotte were counting the takings in their fish and chip shop, when they were forced to confront an armed intruder wielding a chisel. The situation was made more serious as David suffers from haemophilia. A cut could be fatal. Knowing this, Charlotte bravely intervened and together the brother and sister managed to pin down the robber. It was only after they called the police they realised that David had sustained a cut to the head.
But as the above demonstrates, physically fighting back is always full of risk. And there are numerous and often better ways you can play your part in helping the police, as Fightback reveals. Adrian investigates how you can catch a thief from the comfort of your own home using 'Internet Eyes' - a system that allows subscribers to watch live CCTV feeds on behalf of shopkeepers, and if you spot a thief you could win a tenner. Adrian enjoys spotting a shoplifter in the act of nicking a magazine but goes on to question whether such systems are a bit of a snooper's charter?
Advances in technology mean there are all sorts of smart cameras that allow us to catch people in the act. Louise Gilles's uncle Malcolm suffers from MS and started getting additional help around the house from neighbour Lisa. But Louise's suspicions were raised when her uncle started running out of his pension money. Then she found a large receipt for women's clothes. Louise planted a spy camera in Malcolm's sitting room facing a £20 note on the mantle piece to see what might happen the next time Lisa decided to make a visit.
And finally we meet criminals who are foiled by their own stupidity. When a farmer faced ruin after having his equipment stolen, he decided to search for his items online. Only to see his belongings up for sale by a local living just down the road.
Last on
Credits
| Role | Contributor |
| --- | --- |
| Executive Producer | Dan Barraclough |
| Series Producer | Fiona Inskip |
| Presenter | Julia Bradbury |
| Presenter | Adrian Simpson |