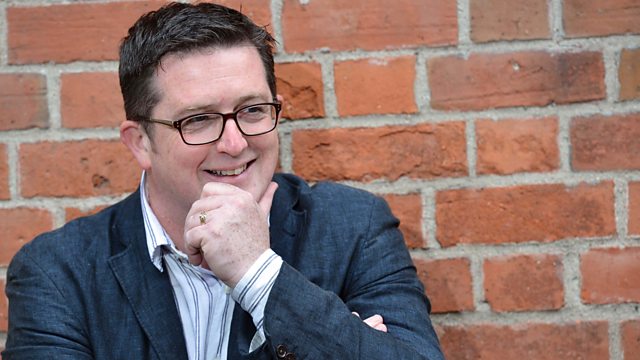 31/08/2013
John Toal looks at health, relationships, hobbies and family along with great music and chat, big interviews, fascinating people and great craic, plus recipes from Paula McIntyre.
Last on
Raspberry Shortcake Biscuits and Blackberry and Lavender Powder Puff Cakes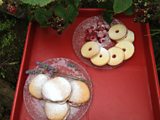 Raspberry Shortcake Biscuits
100g soft butter
100g plain flour
50g cornflour
50g icing sugar
Raspberry jam
Sift the flour, cornflour and icing sugar into a bowl.
Mix in the butter with a spoon and then beat in a food processor until it comes together.
Lightly flour a surface and roll the dough to ½ cm thick.
Split the dough in half and line 3 or 4 baking trays with parchment paper.
Roll half of the dough out and cut into rounds and place on baking tray.
Roll the remaining dough out and cut into rounds. This time cut a round out of the middle either with a plain piping nozzle or a potato corer. Roll up the scraps and use to make more biscuits.
Place on tray.
Chill in fridge for 20 minutes.
Preheat oven to 160˚c.
Cook biscuits until golden and crisp – about 20 minutes.
Cool on a wire rack.
Spread raspberry jam on the biscuit without the hole and place the one with the hole on top. Serve.
Blackberry and Lavender Powder Puff Cakes
Powder Puff Cakes
125g self-raising flour
35g corn flour
2 eggs
125g castor sugar
25g melted butter cooled
1 teaspoon vanilla extract
Place the eggs and sugar in a food processor and whisk until they triple in volume – this will take about 7 minutes at nearly full speed.
Sift the flour and cornflour into a separate bowl.
Fold the flour mix into the egg mix in 3 batches.
Add the butter and vanilla.
Line 2 or 3 baking trays with parchment paper and set oven to 180˚c.
Spoon dessert spoon sized blobs onto the tray, leaving space for spreading.
Try and get them roughly the same size.
Bake for 7-10 minutes or until golden and springy.
Cool on the tray and then transfer to a rack.
Blackberry and Lavender cream
250ml whipped double cream
100g blackberries, washed
35g sugar
Half the flower heads from a sprig of lavender
Cook the blackberries, lavender and sugar together until the sugar has dissolved. Cool.
Fold into the cream.
An hour before serving, sandwich the cakes together with the cream in the middle (you could make the powder puff cakes up to a week in advance and keep them in an airtight container… traditionally they were used to when the clergy visited – they were filled an hour before serving and puff up when filled!)
Dust with icing sugar and serve.
You can substitute raspberries, strawberries or gooseberries and leave out the lavender.