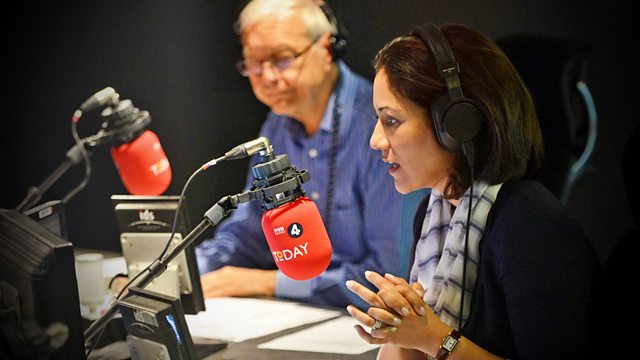 02/09/2013
Morning news and current affairs. Including Sports Desk; Weather; Thought for the Day.
Last on
A rundown of stories from Monday 2 September including programme highlights and comment.
Life Inside 'Islamic State': Diaries
In today's programme...
Today's provisional live running order
0830

The consequences of the Commons votes on Syria last week, and the prime minister's reaction to them is debated by the editor of Prospect, Bronwen Maddox; the former Labour minister Peter Hain and the leader of UKIP, Nigel Farage.




0819

The journalist and broadcaster, Sir David Frost, has died of a heart attack. The BBC's former director general John Birt produced the infamous Frost Nixon interviews, and shares his memories of Sir David.

0810

President Obama has confirmed that his congress will vote on whether America should go to war with Syria on September 9th. The BBC's Washington correspondent Jonny Dymond reports.




0750

Teenagers who fail to score decent grades in their English and maths GCSEs will have to continue studying these subjects, ministers have announced. Alison Wolf, professor of Public Sector Management at King's College London, and Christine Blower, general secretary of the NUT debate the proposals.



See more live updates