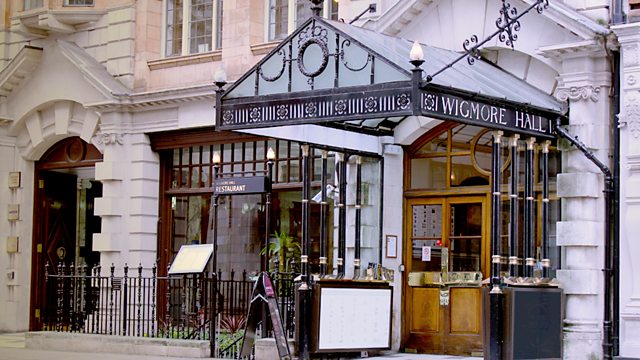 Wigmore Hall: Renata Pokupic, Roger Vignoles
Croatian Mezzo-soprano Renata Pokupic and British pianist Roger Vignoles perform songs by Tomasek, Brahms, Britten and Mahler in a recital recorded earlier this year at London's Wigmore Hall.
Presented by Louise Fryer.
Tomasek: Mailied Op 53 No 3
Tomasek: Schäfers Klagelied Op 56 No 1
Tomasek: Rastlose Liebe Op 58 No 1
Tomasek: Erste Verlust Op 56 No 3
Tomasek: Singet nicht in Trauertönen (Die Nacht) Op 55 No 5
Tomasek: An die Entfernte Op 55 No 1
Tomasek: Wanderers Nachtlied (Der du von dem Himmel bist) Op 58 No 4
Brahms: Auf dem See Op 59 no 2
Brahms: Von ewiger Liebe Op 43 No 1
Brahms: Abenddämmerung Op 49 No 5
Brahms: Ständchen Op 106 No 1
Britten: A Charm of Lullabies Op 41
Mahler: Rheinlegendchen
Mahler: Das Irdische Leben
Mahler: Urlicht
Mahler: Wer hat dies Liedlein erdacht?
Renata Pokupic (mezzo-soprano)
Roger Vignoles (piano).
Last on