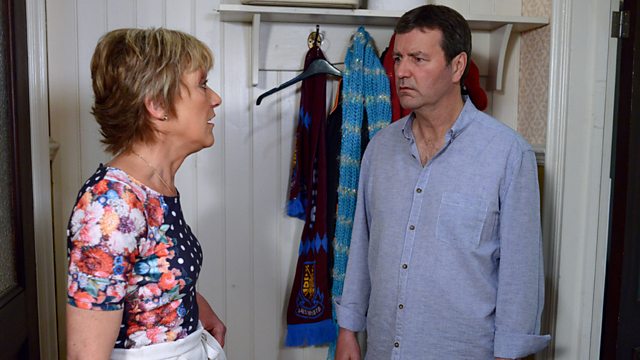 29/08/2013
When Abi confirms the £10,000 has been stolen, Dexter's beside himself. Cindy returns from her swim. Abi reminds the gang that only they knew there was money in the caravan and they begin to accuse each other of the theft. Abi does the pregnancy test and is reassured when Jay insists he'll support her decision either way. Abi's massively relieved that the test's negative but Jay's clearly disappointed and when he reveals he thought Abi wouldn't go through with an abortion she storms off, furious. Outside the pub, Cindy suggests Kitty could have stolen the money but Dexter says he was with her the whole time. Jay sits inside with only Kitty for company. Lola finds Peter alone, staring at the lake and he confesses what happened in Devon - after spending a night with a group of friends, drinking then sleeping on the beach he talked his best mate Gaz into going for a swim. In the water, he ignored Gaz's protests that he was tired. Gaz soon got into trouble, getting cramp and becoming stuck in a strong current. Unable to swim to him fast enough, Peter returned to the beach to get help but when he looked back Gaz was gone. Meanwhile, in the pub, convinced Abi hates him, Jay kisses Kitty; Dexter walks in and catches them.
Jean continues to insist that Alfie loves Kat. Alfie persuades Ollie to go home and comforts Roxy, insisting he loves her. Later, unbeknownst to Jean, Roxy steals her phone and texts Ollie. When Ollie arrives a nervous Jean finds the courage to tell him she has bipolar then walks away.
After their lunch at Scarlett's, Billy takes Tara shopping up west and he buys her a dress, jewellery set and shoes. Tara's shocked when Billy mentions that he won the money and isn't normally flush but covers when he leaves the room, telling Kim he's amazing. Kim isn't fooled and later suggests to Billy he save some of the money. He tells her she's forgotten how to have a good time and should get back out there.
Last on
Credits
| Role | Contributor |
| --- | --- |
| Dexter Hartman | Khali Best |
| Jay Brown | Jamie Borthwick |
| Abi Branning | Lorna Fitzgerald |
| Lola Pearce | Danielle Harold |
| Peter Beale | Ben Hardy |
| Billy Mitchell | Perry Fenwick |
| Kim Fox | Tameka Empson |
| Alfie Moon | Shane Richie |
| Roxy Mitchell | Rita Simons |
| Jean Slater | Gillian Wright |
| Cindy Williams | Mimi Keene |
| Ollie Walters | Tony O'Callaghan |
| Kitty | Chloe May-Cuthill |
| Tara | Liz May Brice |
| Executive Producer | Lorraine Newman |
| Director | Piotr Szkopiak |
| Writer | Jeff Povey |