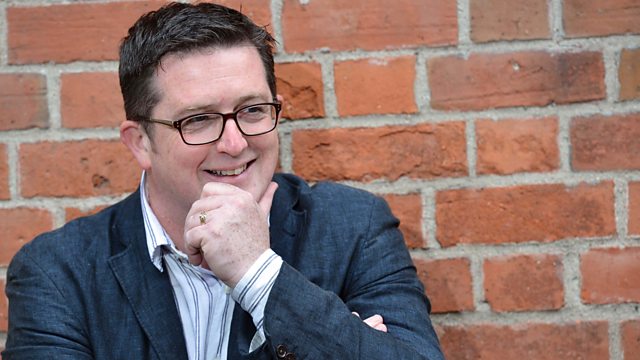 24/08/2013
John Toal looks at health, relationships, hobbies and family along with great music and chat, big interviews, fascinating people and great craic, plus recipes from Paula McIntyre.
Last on
Smoked Chilli Beef with Pinto Beans, Corn Salsa and Roast Red Chilli Sauce, Homemade Corn Tortillas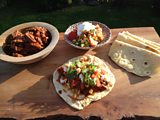 Smoked Chilli Beef with Pinto Beans, Corn Salsa and Roast Red Chilli Sauce, Homemade Corn Tortillas
1kg piece rump steak cut into 8 pieces
1tablespoon rapeseed oil
2 onions, peeled and chopped
2 cloves garlic, chopped
250ml tomato passata
2 tablespoons red wine vinegar
250ml beef stock made with one cube
1 teaspoon ground coriander
1 teaspoon cumin seeds
1cinnamon stick split
1 chipotle chilli soaked in boiling water and chopped or 1 teaspoon chipotle paste
1 tin pinto beans rinsed
Heat the oil in a pan until hot. Season the steak and a seal on all sides. Transfer to a casserole. Cook the onions and garlic in the pan until soft and add the coriander, cumin seeds and cinnamon stick and cook for 1 minute. Add the vinegar, passata and stock. Pour over the beef, cover and cook in a 180˚C oven for about 2 hours or until fork tender. Add the beans.
Corn salsa
2 ears corn, boiled for 6 minutes and shucked
1 tablespoon rapeseed oil
1 red onion, finely chopped
2 tomatoes, roughly chopped
Juice 1 lime
1 teaspoon sugar
Handful chopped coriander
Heat the oil until hot and add the corn. Cook until golden and transfer to a bowl, add the remaining ingredients and season.
Roast chilli sauce
10 red chillies
2 tablespoons rapeseed oil
1 onion, chopped
1 tablespoon tomato puree
200g sugar
200ml red wine vinegar
1 teaspoon salt
Brush the chillies with one of the tablespoons of oil and place on a roasting tray. Cook in a 200˚C oven until they start to blister – about 10 minutes. Transfer to a bowl, cover with cling film and leave.
Peel and take seeds out.
Cook the onion until soft in the remaining oil.
Add the puree and cook for 2 minutes.
Add the chillies, sugar, vinegar and salt and simmer for 15 minutes.
Blend.
Corn Tortillas
150g plain flour
50g polenta
½ teaspoon salt
40g butter
200ml cold water
Place the flour, polenta and salt in a bowl and rub in the flour until it resembles fine breadcrumbs.
Add the water to make a dough.
Wrap in cling and chill for 20 minutes.
Divide into 6 and roll each one into a ball then roll on a floured surface to a 8inch diameter.
Cook on a dry pan until the surface bubbles, flip over and cook for 30 seconds.
Repeat and stack with kitchen paper.