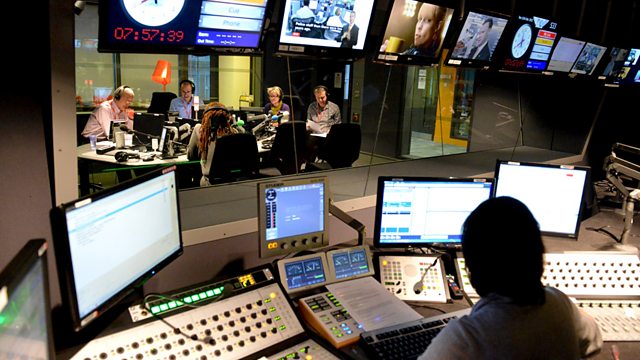 29/08/2013
Morning news and current affairs with John Humphrys and James Naughtie.
Including:
0752
Super Puma helicopters have been grounded as a result of the latest crash in the North Sea, in which four oil workers died. John Winchester, a rig administrator working north of Bergen for the Italian oil and gas company Saipem, recounts his experience of working conditions.
0810
MPs are set to debate military action in Syria in principle only, after the government dropped plans for a speedy vote on British intervention. John Baron, Conservative MP, and Deputy Prime Minister Nick Clegg, discuss intervention, and the BBC's political editor Nick Robinson gives his analysis.
0823
British tennis player Dan Evans was the story of day one at the US Open after he brushed aside 11th seed Kei Nishikori in his first Grand Slam main draw match outside of Wimbledon. Barry Cowan, who was ranked 248th in the world after an extraordinary run at Wimbledon in 2001, reflects on life as an underdog.
Last on