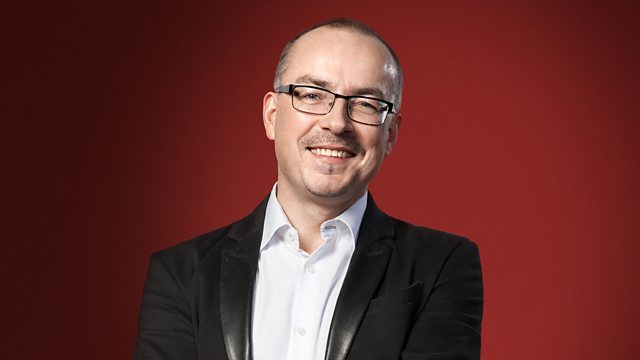 Summer CD Review
With Andrew McGregor. Including Vivaldi: Grosso Mogul Concerto in D, RV208; Mercury's Living Presence archive; three recordings of Britten's War Requiem; Hindemith: Violin Concerto.
Last on
9.05am
Vivaldi: A Tale of Two Seasons
VIVALDI: Violin Concerto, RV 191 in C major; Quel rossor che in volto miri (Montezuma); In mezzo alla procella (Motezuma); Concerto In B Flat Major RV 367; Concerto for Violin "Il Grosso Mogul" in D major RV 208; Ferri, ceppi, sangue, morte (L'incoronazione di Dario); Io sento in questo seno (Arsilda Regina di Ponto); Sentiro fra ramo (L'incoronazione di Dario); Sinfonia to L'Incoronazione di Dario RV719 for strings & continuo
Sally Bruce-Payne (mezzo-soprano), La Serenissima, Adrian Chandler (violin, director)
AVIE AV2287 (CD)
WAGNER: Overture to Die Meistersinger von Nurnberg; Siegfried Idyll; Starke Scheite schichtet mir dort 'Brunnhilde's Immolation Scene' (Gotterdammerung); Gotterdammerung: Dawn, Siegfried's Rhine Journey & Funeral March
Petra Lang (soprano), Budapest Festival Orchestra, Ivan Fischer (conductor)
CHANNEL CCSSA32713 (Hybrid SACD)
9.40am
Purcell: Complete Music For Strings
PURCELL: Twelve Sonatas of three parts (1683); Ten Sonatas in Four Parts (1697); Fantazia 1 in D minor, Z. 732; Fantazia 10 in E minor, Z. 741; Fantazia 11 in G major, Z. 742; Fantazia 12 in D minor, Z. 743; Fantazia 13 in A minor, Z. 744; Fantazia 2 in F major, Z, 733; Fantazia 3 in G minor, Z. 734; Fantazia 4 in G minor, Z. 735; Fantazia 5 in B flat major, Z. 736; Fantazia 6 in F major, Z. 737; Fantazia 7 in C minor, Z. 738; Fantazia 8 in D minor, Z. 739; Fantazia 9 in A minor, Z. 740; Fantasia Upon One Note in F major, Z745; Six-Part In Nomine in G minor, Z746; Seven-Part In Nomine, Z. 747, "Dorian"
Musica Amphion, Pieter-Jan Belder (conductor)
BRILLIANT CLASSICS 94619 (3CD budget)
Purcell: How pleasant 'tis to Love!
PURCELL: Sound the trumpet, beat the drum, Z335; Ah, how pleasant 'tis to love, Z353; O solitude, my sweetest choice, Z406; Almand in D minor; Song Tune 'Still I'm wishing', Z627 - lute solo; Seek not to know (The Indian Queen, Z630); Corant & Hornpipe in D minor; Music for a while, Z583; Sweeter than Roses (Pausanius, the Betrayer of his Country, Z585); A New Ground in E minor, Z. T682; Tis Nature's voice (Hail, Bright Cecilia, Z328); An Evening Hymn 'Now that the sun hath veiled his light', Z193; In vain the am'rous flute (Hail, Bright Cecilia!, Z328); Strike the Viol (Come Ye Sons of Art, Z323); Roundo in D minor; Ground in D minor, ZD222; Plainte - O, Let Me Weep (The Fairy Queen, Z629); Ah! how happy are we; They tell us that your mighty powers, Z630; Hornpipe in E minor; From Rosy Bow'rs (Don Quixote)
Reinoud Van Mechelen (tenor), Scherzi Musicali, Nicholas Achten (baritone, harp, director)
ALPHA ALPHA192 (CD)
Charpentier: Litanies de la Vierge
CHARPENTIER, M-A: Miserere des Jesuites H193-193a; Antienne H526; Annunciate superi H333; Overture H536; Litanies de la Vierge, H83
Ensemble Correspondances, Sebastien Dauce
HARMONIA MUNDI HMC902169 (CD)
10.05am
Mercury Living Presence 2
Various, including:
BARTOK: The Miraculous Mandarin Op. 19, Sz. 73 (complete ballet & suite)
BEETHOVEN: Symphony No. 5 in C minor Op. 67
BULL, J: The King's Hunt
CHABRIER: Bourree Fantasque
COATES: London Suite
DELIBES: Sylvia
DVORAK: Symphony No. 7 in D minor Op. 70
HANSON: Symphony No. 2 Op. 30 'Romantic'
HOLST: Suite No. 1 for Military Band in E flat major Op. 28 No. 1, H105
MOZART: Symphony No. 38 in D major, K504 'Prague'
STRAVINSKY: The Rite of Spring
WIDOR: Organ Symphony No. 6 in G minor Op. 42 No. 2: Allegro
MERCURY LIVING PRESENCE 4785092 (55CD budget)
For more details see http://www.deccaclassics.com/gb/cat/single?PRODUCT_NR=4785092
11.00am
BRITTEN: War Requiem Op. 66; The Young Person's Guide to the Orchestra Op. 34; Spring Symphony Op. 44
Nadežda Kniplova (soprano), Gerald English (tenor), John Cameron (baritone), Milada Šubrtova (soprano), Vera Soukupova (alto), Prague Philharmonic Choir, Kuhn Children's Chorus, Beno Blachut (tenor), Czech Philharmonic Orchestra, Karel Ancerl (conductor)
SUPRAPHON SU41352 (2CD mid-price)
Britten War Requiem - 2013 HD Remaster
BRITTEN: War Requiem Op. 66
Galina Vishnevskaya (soprano), Peter Pears (tenor), Dietrich Fischer-Dieskau (baritone), London Symphony Orchestra and Chorus, Benjamin Britten (conductor)
DECCA 4785433 (2CD + Bluray audio, mid-price)
BRITTEN: War Requiem Op. 66
Susan Gritton (soprano), John Mark Ainsley (tenor), Christopher Maltman (baritone), Wroclaw Philharmonic Choir, Gabrieli Young Singers Scheme, Trebles of The Choir of New College Oxford, Gabrieli Consort, Players, Paul McCreesh (conductor)
SIGNUM SIGCD340 (2CD budget)
11.35am
Hindemith: Violinkonzert, Symphonic Metamorphosis & Konzertmusik Op. 50
HINDEMITH: Violin Concerto; Symphonic Metamorphoses on Themes by Carl Maria von Weber; Konzertmusik Op. 50 for strings & brass
Midori Goto (violin), North German Radio Symphony Orchestra, Christoph Eschenbach (conductor)
ONDINE ODE12142 (CD)
Hindemith: Violin Concerto and Sonatas
HINDEMITH: Violin Concerto; Sonata for Solo Violin Op. 31 No. 2 'Es ist so schones Wetter draussen...'; Sonata for Violin & Piano in E flat major Op. 11 No. 1; Sonata for Violin & Piano in E major; Sonata for Violin & Piano in C major
Frank Peter Zimmermann (violin), Enrico Pace (piano), Frankfurt Radio Symphony Orchestra, Paavo Jarvi (conductor)
BIS BIS2024 (Hybrid SACD)