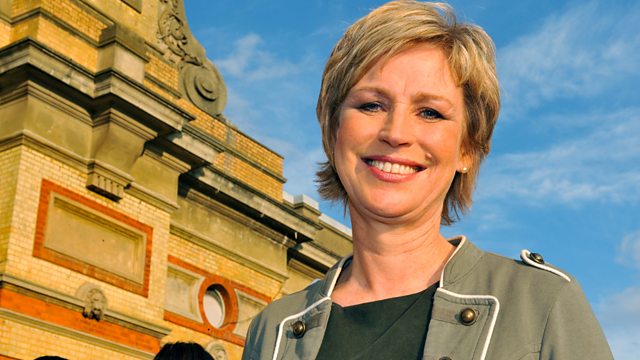 Paisley Abbey
To mark its 850th anniversary, Sally Magnusson visits the Scottish town of Paisley's impressive abbey for traditional hymns and songs, discovers the origins of the world-famous pattern and tries her hand at curling.
Last on
Interviewees
Lynne Mackenzie
Lynne is the National Coaching Officer for the Royal Caledonian Curling Club. She met Sally at The Peak Sports Centre in Stirling. As well as taking Sally through the basics of playing the game of Curling, Lynne explained how the history of the sport is linked to Paisley Abbey. The earliest known written description of a game of Curling was written in 1540 and described a challenge made by John Sclater, a Monk at Paisley Abbey, to a contest throwing stones over the ice with a man named Gavin Hamilton, a representative of the Abbot.
 The Right Reverend Lorna Hood, Moderator of the General Assembly of the Church of Scotland.
Lorna Hood was installed as a Chaplain to the Queen at Paisley Abbey. She spoke to Sally about the long tradition of choral music at Paisley Abbey and  its prominent place in the History of the town.
Professor George McPhee
George is celebrating his 50th Year as Paisley Abbey's director of Music. He showed Sally his favourite object associated with the Abbey, a fragment of music scratched onto slate which is the oldest example of polyphonic music ever found in Scotland.
Matthew
McIntosh
Matthew whose Church Officer at Paisley Abbey showed Sally an unrestored room above the Abbey that is accessed through a bedroom cupboard.  The room is believed to be a dormitory that was used for centuries by Monks who were responsible for the nighttime prayers and Masses in the Abbey.
Dan Coughlan
Dan is the curator of textiles at the Paisley Museum. We filmed him at the Sma' Shot Cottage in Paisley where he explained to Sally how the town of Paisley became famous as a weaving centre and gave it's name to the world famous Paisley Pattern.  He also told Sally how although their lives were tough, the Paisley weavers were proud God-Fearing who often expressed themselves though writing poetry.
Whithorn Pilgrims                                                 
To celebrate the 850th Anniversary of Paisley Abbey, a Pilgrimage was organised from Paisley Abbey to the earliest Christian site in Scotland, Whithorn Priory. To give as many people as possible the chance to take part the route was split into manageable sections and completed over 12 months. We joined the Pilgrims as they completed the final leg of the Journey and arrived at Whithorn Priory.
Credits
| Role | Contributor |
| --- | --- |
| Presenter | Sally Magnusson |
| Producer | Karen Hannah |
| Series Editor | David Taviner |
| Executive Producer | Tommy Nagra |