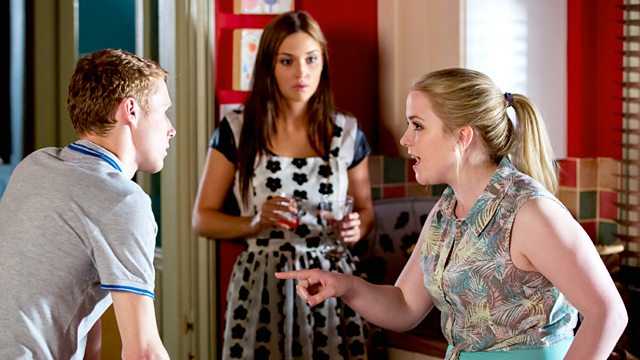 22/08/2013
Shirley interrogates Kim and Denise about Phil paying her rent and confronts Phil in the cafe, angrily insisting she doesn't need charity. Phil protests he was trying to help. Phil points out they'd be married by now if Heather hadn't died, which Shirley leaps on as proof that Phil's been paying her rent out of guilt. Shirley takes her rage out on Sharon and is stopped by Denise. Denise makes an emotional Shirley consider that Phil could still be in love with her. Later, Shirley warns Phil to think of a number and triple it - with everything she knows about him, Phil still owes Shirley big time.
Cindy Junior's desperate to stay in Walford although Lucy and Peter aren't too pleased to see her. Peter snaps when Cindy mentions what happened in Devon, insisting she tell no-one. Cindy tells Denise that her gran, Bev, hates her and asks Denise to speak to Ian on her behalf. However, Ian's booked Cindy on the evening train back to Devon. Cindy attempts to sweet talk Ian, begging him to let her stay. Later, Peter's packed Cindy's bags, determined to forget what happened in Devon. He's horrified when Ian tells a delighted Cindy that she can stay for a while.
Lauren plans a party to celebrate Abi's AS results. Abi tries to be grateful, but eventually blurts that she didn't get the grades she needed for University, blaming Lauren's drinking.
Jean and Ollie stage a stake-out at the allotments and find the carrot thief is Mo! Mo and Ollie know each other from Mo's previous police dalliances. Mo wonders if Ollie knows about Jean's bipolar. Jean insists she'll tell him when she's ready. Ollie agrees not to press charges against Mo.
Fatboy continues to lie about his whereabouts to Poppy. Poppy quits her job and makes plans to move home, convinced Fatboy is seeing someone else. But it's all a misunderstanding. Mystery girl Chloe is just a colleague from McKlunky's - he's been working secret shifts to save up to take Poppy away. Poppy's hugely relieved.
Last on
Credits
| Role | Contributor |
| --- | --- |
| Shirley Carter | Linda Henry |
| Phil Mitchell | Steve McFadden |
| Kim Fox | Tameka Empson |
| Sharon Rickman | Letitia Dean |
| Ian Beale | Adam Woodyatt |
| Cindy Williams | Mimi Keene |
| Denise Fox | Diane Parish |
| Lucy Beale | Hetti Bywater |
| Jean Slater | Gillian Wright |
| Mo Harris | Laila Morse |
| Abi Branning | Lorna Fitzgerald |
| Lauren Branning | Jacqueline Jossa |
| Peter Beale | Ben Hardy |
| Poppy Meadow | Rachel Bright |
| Arthur 'Fatboy' Chubb | Ricky Norwood |
| Sadie Young | Kate Magowan |
| Lola Pearce | Danielle Harold |
| Alice Branning | Jasmyn Banks |
| Tamwar Masood | Himesh Patel |
| Dexter Hartman | Khali Best |
| Jay Brown | Jamie Borthwick |
| Chloe | Siobhan Athwal |
| Ollie Walters | Tony O'Callaghan |
| Executive Producer | Lorraine Newman |
| Director | Tim Mercier |
| Writer | Pete Lawson |