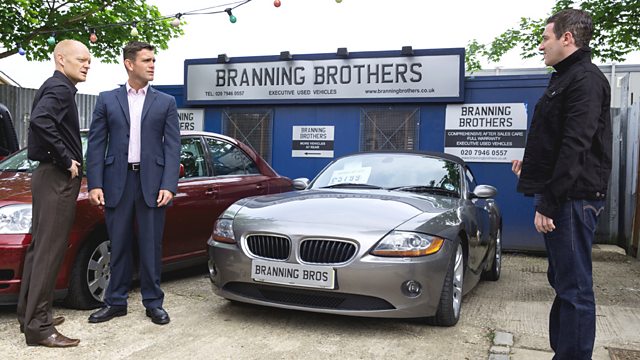 20/08/2013
Ian plans a lavish dinner for Denise at Scarlett's and Peter pleads with a reluctant Denise to come for one drink. Denise arrives at Scarlett's to find the restaurant closed and a special reserved table with candles and a rose. Ian makes a heartfelt apology and swears to never take Denise for granted again. Denise relents, to Ian's delight, but warns she won't be a second rate Mrs Beale. Ian's grateful for Peter's help. Reconciled, Ian and Denise head home with Peter. On discovering the front door glass smashed, they enter cautiously and are shocked to Cindy Junior there - Peter and Lucy's half-sister.
Kat convinces Bianca to attend another singles night. They compete to find single men to take with them. Kat thinks men are responsible for everything bad that's happened to her. Bianca and Kat toast to living without men.
When Shirley moans about her room at the B&B, Kim's tempted to reveal Phil is paying her rent. Denise insists Shirley can't know the truth. Kim and Shirley are getting along until Patrick and Shirley start making jokes about Shirley's room. Riled, Kim blurts out that Phil's paying Shirley's rent.
At the car lot, all the car tyres have been slashed and a mysterious bottle of whiskey arrives for Lauren on her first day. Max is convinced Carl's responsible. Although shaken, Lauren covers and heads to her counselling session where she encounters Jake again, and notices his wedding ring. In the Vic, Max squares up to Carl and has to be restrained by Jack when Carl offers to buy him a whiskey.
At the salon, Poppy feels guilty and confesses that she told Lola the wrong discount and let her take the blame. Sadie's shocked. Upset, Poppy flees and searches for Fatboy but can't find him. Waiting outside the Masoods', Poppy's horrified to see him approach with a girl who he hugs as they bid goodbye.
Tamwar and Alice go for lunch. Tamwar awkwardly wonders if they're an item and is chuffed when Alice says yes.
Last on
Credits
| Role | Contributor |
| --- | --- |
| Cindy Williams | Mimi Keene |
| Peter Beale | Ben Hardy |
| Ian Beale | Adam Woodyatt |
| Denise Fox | Diane Parish |
| Kim Fox | Tameka Empson |
| Patrick Trueman | Rudolph Walker |
| Shirley Carter | Linda Henry |
| Alfie Moon | Shane Richie |
| Bianca Butcher | Patsy Palmer |
| Kat Moon | Jessie Wallace |
| Joey Branning | David Witts |
| Phil Mitchell | Steve McFadden |
| Tamwar Masood | Himesh Patel |
| Alice Branning | Jasmyn Banks |
| Max Branning | Jake Wood |
| Jack Branning | Scott Maslen |
| Carl White | Daniel Coonan |
| Arthur 'Fatboy' Chubb | Ricky Norwood |
| Lauren Branning | Jacqueline Jossa |
| Poppy Meadow | Rachel Bright |
| Lola Pearce | Danielle Harold |
| Aj Ahmed | Phaldut Sharma |
| Sadie Young | Kate Magowan |
| Chloe | Siobhan Athwal |
| Jake Stone | Jamie Lomas |
| Executive Producer | Lorraine Newman |
| Director | Tim Mercier |
| Writer | Paul Mari |