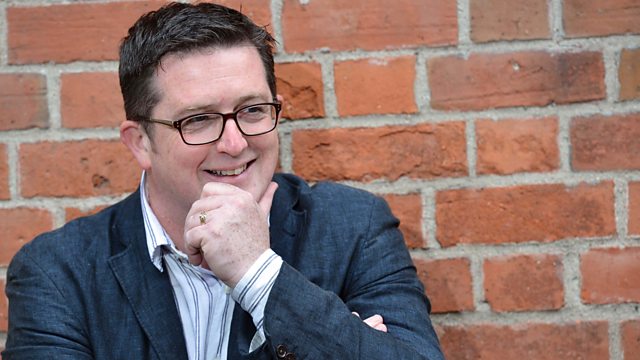 17/08/2013
John Toal and Paula McIntyre are live in Derry to soak up the atmosphere of All-Ireland Fleadh. With the sounds of Cúig, Portuguese Custard Tarts and sports writer Michael Calvin.
Last on
Portuguese Custard Tarts with Gooseberry, Blackcurrant, Strawberry & Raspberry Toppings, with Homemade Blackcurrant Liqueur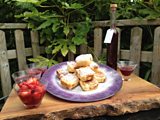 Portuguese Custard Tarts 
1 pack ready rolled puff pastry
Zest of 1 orange
1 teaspoon ground cinnamon
4 egg yolks
125g castor sugar
2 tablespoons cornflour
350ml double cream
1 teaspoon vanilla extract
Take the puff pastry and open onto a surface.
Sprinkle over the orange zest and cinnamon and fold over in half.
Roll up the pastry tightly like a Swiss roll, wrap in cling and chill.
Place the cream in a saucepan and scald.
Whisk the egg yolks, sugar and cornflour together and pour over the hot cream, whisking all the time
Pour back into the saucepan and stir constantly on a low heat until the mixture thickens.
Pour into a bowl and place cling on the surface of the custard and allow to cool.
Cut the pastry into 12 discs and roll each one out to fill a buttered muffin tin.
Set oven to 160˚c in a fan, 180˚c regular.
Bake for 20 minutes or until set to touch but still a bit wobbly.
Cool for 5 minutes in cases then remove and cool on a wire rack.
Serve warm or cold.
Gooseberry and Elderflower Compote
200g picked, washed and trimmed red gooseberries
50g castor sugar
2 tablespoons elderflower cordial
Place in a pan and simmer until the gooseberries are just soft.
Blackcurrant and lemon compote
200g blackcurrants, washed
75g castor sugar
Zest and juice ½ lemon
Place in a pan and simmer until blackcurrants are soft.
Candied Strawberries and Raspberries
150g washed raspberries
150g hulled and halved strawberries
50g castor sugar
100ml blackcurrant liqueur
Cook the sugar in a non-stick pan over a high heat, without stirring until it caramelizes. Add the liqueur carefully and cook to a syrup.
Toss in the berries and remove from heat.
Homemade Blackcurrant Liqueur
500g washed and picked over blackcurrants
500ml red wine
Sugar
350ml vodka or rum
Place the blackcurrants in a bowl and cover with the wine.
Cover with cling and leave for 24 hours.
Blend the mixture and sieve into a bowl through muslin cloth.
Measure the juice and place in a saucepan.
Measure an equal amount of sugar.
Simmer until all the sugar has dissolved.
Cool and mix in the vodka or rum.
Pour into a clean bottle and cork.
Will keep for up to 6 months.