Dark is beautiful

The Dark is Beautiful campaign in India is challenging the belief that success and beauty depends on the lightness of your skin. In 2010, India's skin-whitening cream market was worth $432M with top Bollywood stars and cricket players endorsing the latest products. But one Bollywood star – Nandita Das – has now broken ranks to speak out against the prevailing attitude that the most attractive and successful people have the lighter skins. She joins Jenni live from Mumbai.

Teens and Festivals

Sex, drugs, rock'n'roll – it's nothing new for teenagers to want to experiment. But what if that experimentation is taking place at a music festival, in the middle of a field, and thousands of other people doing the same thing? With the GCSE results out this week and a warm bank holiday weekend ahead, 16 year olds all over the country will be flocking to music festivals to let off steam after a tough few months of studying. For many, getting muddy with mates at a big outdoor festival is a rite of passage. But is 16 the right age, or should parents be concerned about letting their child go to these events unsupervised? Jenni chats to two parents of teenagers – Tom Hingley, former lead singer of the Inspiral Carpets, and Lisa Warner, a parenting expert.

Sexism on the Terraces

This season, Liverpool Football Club has issued its' staff with a guide to unacceptable language. Their aim is to encourage their fans to stop using verbal abuse. Phrases deemed to be unacceptable include "Don't be a woman", "You're playing like a girl" and "That's gay!" Liverpool FC says that it wants to stamp out sexism and racism on the terraces but just how realistic is this? And how offensive is it to suggest that a male football player looks like a woman? Should female footy fans just accept that misogynistic comments are all part of supporting your team? Fiona McGee from the Football Supporter's Federation and Laura Bates – founder of the Everyday Sexism Project – join Jenni tomorrow in Salford to discuss the topic.    

The Art of Sleeping Alone

Sophie Fontanel, a senior fashion editor for Elle, has written a hugely successful book called L'Envie. It has just been published in the UK as The Art of Sleeping Alone and it seem to have struck a chord with many young women in France. Sophie believes that it is preferable to have no sex rather than disappointing sex and she joins Jenni from Paris to talk about her choice to be celibate for 12 years.
Credits
Presenter

Jenni Murray
Interviewed Guest

Sophie Fontanel
Editor

Alice Feinstein
Woman's Hour Power List 2014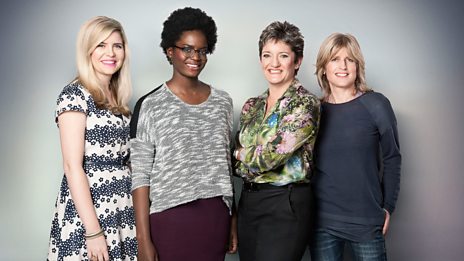 Identifying the top ten game changers operating in the UK today.
Free downloads
Discover cooking techniques and tips to help you perfect your cooking know-how. Jenni Murray and…

Which ten women in the UK have done most to game-change the way power operates in the UK, whether in…

Woman's Hour brings you the big celebrity names and leading women in the news, with subjects ranging…