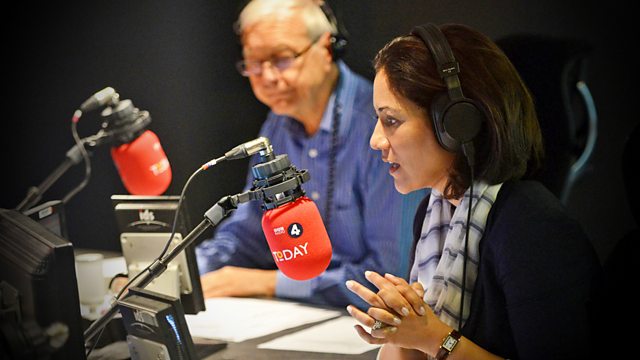 23/08/2013
Morning news and current affairs with Sarah Montague and James Naughtie. Including:
0750
The Office for Fair Trading has announced it is investigating six high street furniture and carpet retailers for how they use so-called "reference pricing". Cavendish Elithorn, senior director at the Office for Fair Trading, and Sarah Pennels, founder of the finance website SavvyWoman, debate whether retailers have been misleading customers.
0810
UN Secretary-General Ban Ki-moon has urged the Syrian government to allow a UN team to swiftly investigate an alleged chemical weapons attack. We're joined by Professor Sergei Markov of Moscow State University, and head of the National Civic Council of International Affairs.
0822
If you were arrested, how would you feel if the interview was done not by an officer but by another member of the public who had done a four-week training course on how to conduct in interview? Sussex Police are considering the idea. Phil Butler, former Detective Inspector with Northumbria Police, and the crime novelist Peter Robinson, debate the proposals.
Last on