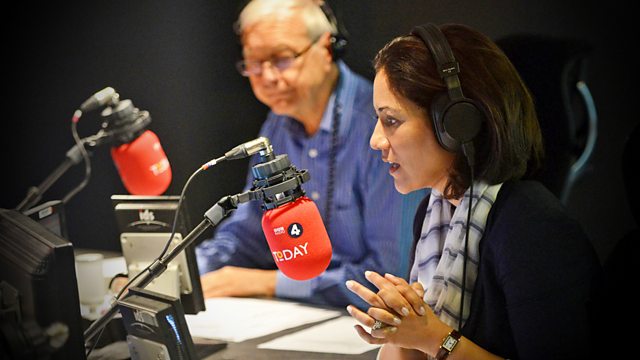 21/08/2013
Morning news and current affairs. Including Sports Desk; Weather; Thought for the Day.
Last on
A rundown of stories from Wednesday 21 August including programme highlights and comment.
Life Inside 'Islamic State': Diaries
In today's programme...
Shadow home secretary Yvette Cooper and Sir Malcolm Rifkind discuss the detention of David Miranda on Sunday under the Terrorism Act. Labour is proposing new measures to control the cost of renting private accommodation. And should airplanes have superfast broadband?
0900




0855

US crime writer Elmore Leonard, author of such books as Get Shorty, Maximum Bob and Out of Sight, has died at the age of 87 after suffering a stroke. Mark Billingham, crime writer, and Erica Wagner, former literary editor of the Times, reflect on Leonard's life and career.




0851

Labour is looking at ways to make life easier for those who rent accommodation in the private sector. Caroline Uphill, chair of the National Landlords Association, joins us now to give her analysis of the idea.




0847

GCSE results will be published on Thursday. The BBC's education correspondent, Gillian Hargreaves, explains that the results this year are more unpredictable than usual.



See more live updates