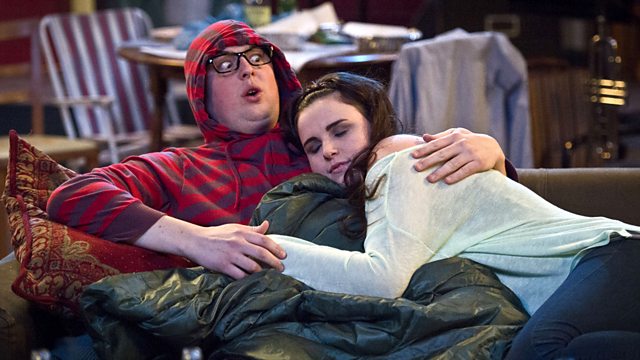 Upon news of her son's engagement, Tom's mum Carol leaves her job on the cruise ship to help her boy plan the big day. Except there's no engagement. It's one of the many lies Tom told to impress his mum and make her proud. It wouldn't be so bad if he hadn't said his fiancee was Matthew's sister Rachel.
Matthew is outraged at the dishonesty until it transpires that he has his own romantic secrets. He has a hot American online girlfriend, Tess, but she thinks he looks like the more handsome man in Matthew's profile pic, who is actually Ben.
Ben is outraged by this dishonesty until Tess turns up on the doorstep having flown over en route to Italy and looking for some real-life passion. Ben is now all too happy to play along with the charade.
Before the boys can get rid of their new house guests, a distraught Rachel arrives looking for some brotherly comfort having fallen out with her boyfriend Andrew. Carol wants to hear all about the wedding between Rachel and Tom. Tess wants to get sexy with Ben, thinking he's Matthew, but the real Matthew doesn't want Ben to go through with it. Rachel wants Matthew to help her with Andrew, but Matthew's too busy dodging the advances of Tom's mum Carol and, thanks to a bamboozling drinking game, everyone is now hammered and even more confused than they were already.
Last on
Credits
| Role | Contributor |
| --- | --- |
| Ben | Ben Clark |
| Matthew | Matthew Crosby |
| Tom | Tom Parry |
| Rachel | Emer Kenny |
| Director | Ben Kellett |
| Producer | Izzy Mant |
| Executive Producer | Gavin Smith |
| Executive Producer | Rab Christie |
| Writer | Ben Clark |
| Writer | Matthew Crosby |
| Writer | Tom Parry |
| Script Editor | Andrew Collins |
| Carol | Julia Deakin |
| Tess | Kelly-Anne Lyons |
The Badults Guide to the Commonwealth Games
Buy online
Buy online
Available on: DVD or Video download
From suppliers including: Amazon Video, iTunes