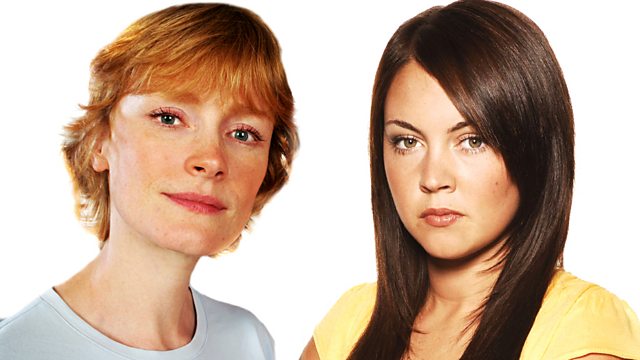 by Martin Jameson
It's an irony of child protection, that if you've been a social worker long enough to remove two children from a woman at birth, that means you may be the one constant in her life she can trust.
So when Tamsin tracks down her old social worker Liz for help, she doesn't care that Liz is on suspension and forbidden from talking to her. Or that Liz is the current hate figure of the national press, after the violent death of a child on her caseload.
Tamsin just wants help.
Should Liz ignore her? Or is time to break the rules?
Claire Skinner is best known to TV viewers as harassed mum Sue in Outnumbered, but her wide-ranging career includes long associations with Mike Leigh, Alan Ayckbourn, and Sam Mendes.
Lacey Turner won a fistful of awards for her portrayal of Eastenders' Stacey Slater over 6 years, and recent TV work includes starring in True Love and Our Girl.
Martin Jameson is a prolific screenwriter, director and playwright whose recent work on Radio 4 includes Can You Tell Me The Name Of The Prime Minister?, The Night They Tried To Kidnap The Prime Minister and Stone.
2/5 Liz has been offered a settlement by the Council, if she'll sign a gagging order.
Produced and directed by Jonquil Panting.
Last on
Information and Support
If you, or someone you know, have been affected by the issues raised in this programme, the following organisations can help:

Pace (Parents against child sexual exploitation)
 works alongside parents and carers of children who are – or are at risk of being – sexually exploited by perpetrators external to the family, as well as offering guidance and training to professionals on how child sexual exploitation affects the whole family. Pace seeks to enable parents and carers to safeguard and stop their children being sexually exploited, works with parents and partners to disrupt and bring perpetrators to justice, and aims to influence national and local policy and practice. 
Phone: 0113 240 3040
Mosac is a voluntary organisation supporting all non-abusing parents and carers whose children have been sexually abused. They provide a safe place for parents and carers to come following the trauma of discovering that their child or children have been abused. They offer practical and emotional support in a number of ways, including a telephone helpline, advice sessions, an advocacy service and therapy sessions.
Helpline: 0800 980 1958
ChildLine is the UK's free, 24-hour confidential helpline for children and young people who need to talk.  Trained counsellors are there to provide comfort, support and advice about any problem that's on your mind.  Contact them 24 hours a day, every day, by phone or via their website.
Helpline: 0800 1111 (calls are free from all existing networks – landline and mobile)
The Child Exploitation and Online Protection (CEOP) Centre is the UK's national police agency set up to tackle child exploitation on and offline.  If you are worried about someone's behaviour towards a child online, you can report this at www.ceop.police.uk or via the ClickCEOP button available on many websites.  CEOP's Thinkuknow education programme has information for parents, teachers and young people about staying safe on the internet
Stop it Now! UK and Ireland works to protect children and prevent child sexual abuse. Their helpline offers confidential advice, information and support to anyone with concerns about child sexual abuse and helps callers take the action that is in the best interests of children. The helpline is available to any adult who has concerns relating to child sexual abuse. This includes those who are concerned that an  adult or child they know is sexually abusing a child, or is at risk of doing so; is concerned about their own thoughts or behaviour towards children, including an interest in child pornography; or is a parent or carer of a child whose sexual behaviour or interests they find worrying.
Freephone Helpline: 0808 1000 900
Email: help@stopitnow.org.uk (emails received are anonymised to preserve confidentiality and they aim to respond within 3-5 days)
The NSPCC is a charity specialising in child protection and the prevention of cruelty to children. They operate a free 24-hour helpline that provides help, advice and support to adults worried about a child. 
Helpline: 0808 800 5000
Text: 88858
Email: help@nspcc.org.uk  
BBC Webwise: Online safety for parents
Advice on social media privacy and online safety from BBC Webwise
http://www.bbc.co.uk/webwise/topics/safety-and-privacy/online-safety-for-parents
Get Safe Online is a leading source of unbiased, factual and easy-to-understand information on online safety.
The site includes advice for parents, guardians and teachers about safeguarding children online.
The Hideout is a website created by Women's Aid to help children and young people to understand domestic abuse and how to take positive action if it's happening to them.
Women's Aid is the national domestic violence charity which helps up to 250,000 women and children every year. If you need information or support, you can visit their website to find details of local domestic violence services or read the Survivor's Handbook which provides practical support and information for women experiencing domestic violence
The Survivor's Handbook
http://www.womensaid.org.uk/domestic-violence-survivors-handbook.asp?section=0001000100080001&itemTitle=The+Survivor%27s+Handbook  
National Domestic Violence Helpline (run by Women's Aid and Refuge): 0808 2000 247
Refuge provides safe, emergency accommodation and emotional and practical support to women and children experiencing domestic violence. Refuge also provides services for children, individual and group counselling and community based outreach services for women.  It also has a growing team of independent domestic violence advocates and runs the Freephone 24-Hour National Domestic Violence Helpline in partnership with Women's Aid.
National Domestic Violence Helpline (run by Women's Aid and Refuge): 0808 2000 247
Family Lives is a national charity providing help and support in all aspects of family life. They are there for you 24 hours a day, seven days a week through their website and free Family Lives Helpline. Family Lives also has a LiveOnline chat service, where you can talk to their trained staff online about any family issue. Whatever your family role or situation, they can help.
Helpline: 0808 800 2222
Credits
| Role | Contributor |
| --- | --- |
| Liz Beecham | Claire Skinner |
| Colin | David Seddon |
| Sundeep Mishra | Sasha Behar |
| Clive Beecham | Michael Bertenshaw |
| Justin | Jerome Holder |
| Chloe | Hannah Wood |
| Nurse | Matthew Watson |
| Director | Jonquil Panting |
| Producer | Jonquil Panting |
| Writer | Martin Jameson |