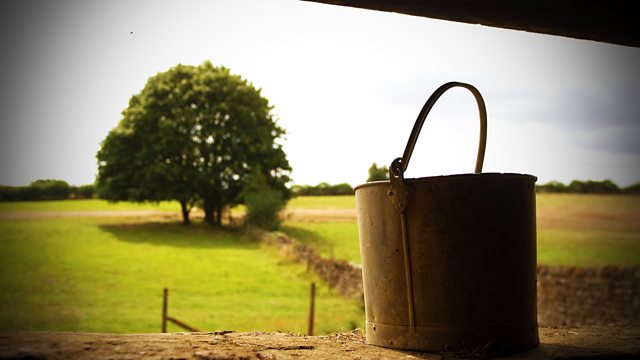 16/08/2013
After a meeting with their financial advisor, Pat and Tony They break the news to Tom that there isn't enough money from the herd sale for a second hand tractor. Tom understands. The most important thing is that they secure their retirement.
Martyn is giving Kathy a hard time at the golf club. As she struggles to fit a new bottle into the optic bracket, it slips and the gin spills on the counter. As far as Martyn is concerned, that's even more wastage!
As they enjoy the 'thank-you' curry, Tom and Kirsty joke and get on well. Kirsty discovers that Helen is 'out with a friend' tonight. Kirsty carefully asks if Tom has heard about Brenda, who now has a Russian boyfriend and is in London. She's very relieved when he tells her he's fine about it
At the open air theatre, Pat wonders how Kathy feels about Jamie being Kenton's best man. Kathy is horrified to see Martyn Gibson arriving. Martyn comes over to speak to Kathy about the waste at the golf club. Pat is sure that Kathy doesn't want to talk about work. But Martin wants a report by Monday morning.
Last on
Credits
| Role | Contributor |
| --- | --- |
| Kenton Archer | Richard Attlee |
| David Archer | Tim Bentinck |
| Ruth Archer | Felicity Finch |
| Elizabeth Pargetter | Alison Dowling |
| Tony Archer | Colin Skipp |
| Pat Archer | Patricia Gallimore |
| Helen Archer | Louiza Patikas |
| Tom Archer | Tom Graham |
| Brian Aldridge | Charles Collingwood |
| Jennifer Aldridge | Angela Piper |
| Lilian Bellamy | Sunny Ormonde |
| Jolene Perks | Buffy Davis |
| Fallon Rogers | Joanna Van Kampen |
| Kathy Perks | Hedli Niklaus |
| Jamie Perks | Dan Ciotkowski |
| Neil Carter | Brian Hewlett |
| Mike Tucker | Terry Molloy |
| Brenda Tucker | Amy Shindler |
| Oliver Sterling | Michael Cochrane |
| Caroline Sterling | Sara Coward |
| Kirsty Miller | Annabelle Dowler |
| Rob Titchener | Timothy Watson |
| Martyn Gibson | Jon Glover |
| Ray Franklin | Robin Bowerman |
| Harriet Franklin | Liza Sadovy |
| Anthea Jennings | Joanna Brookes |
| Mel Harrison | Abigail McKern |
| Writer | Tim Stimpson |
| Director | Julie Beckett |
| Producer | Julie Beckett |
| Editor | Julie Beckett |
| Editor | Vanessa Whitburn |