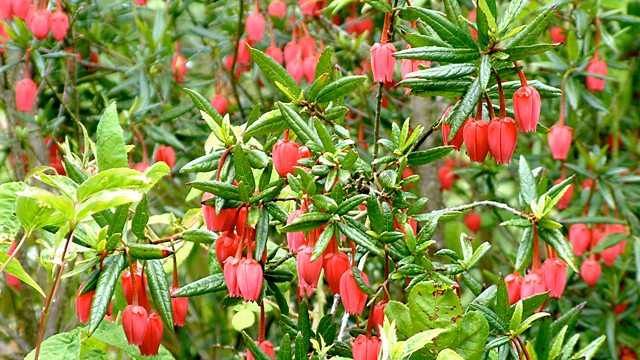 Ulster - County Antrim
Listen in pop-out player
Eric Robson takes the panel to Ulster for this week's episode. Gardening experts Matthew Wilson, Pippa Greenwood and Bob Flowerdew attempt to solve the audience's horticultural concerns.
Produced by Howard Shannon
A Somethin' Else Production for BBC Radio 4.
This week's questions:
Q. Would continual use of a general purpose fertiliser on a lawn cause a problematic build-up of potash and phosphate in the long-term?
A. It depends on the quantity applied. Potash washes out very quickly, nitrogen will be taken up by the grass and - depending on the soil type - phosphate can become 'locked up' and unavailable. In very large amounts too much growth will be encouraged which, at the back end of the year, would be 'soft' growth and prone to turf diseases and more easily damaged. Different feeds are formulated for different times of year to encourage the right kind of growth.
Q. Could the panel recommend a climbing rose which would grow in a wet and windy climate, which is disease resistant and would require no spraying?
A. The variety 'Summer Wine' is recommended which has a single dark pink flower, strong fragrance and will repeat flower from June to September. 'Kiftsgate' and 'Rambling Rector' are also suggested because of their vigour.
Q. What are the advantages of hardwood cuttings?
A. Hardwood cuttings are simple because they are taken in the autumn when pruning. Unlike softwood cuttings they do not require a propagator or cloche and require much less work. The advantage of hardwood cuttings for the commercial grower is that they extend the propagation season. However, some plants will respond in different ways and will do better with semi-ripe cuttings.
Q. When should Nasturtium seeds be gathered? What is the best way to dry them for storage?
A. As soon as the seed head starts to look as if it's drying, not green but beige. Spread on paper and leave in a well-ventilated spot with a little natural warmth.
Q. How can I increase the number of bees visiting the garden?
A. Take up bee keeping! To increase natural bee numbers, more flowers over more season with more shelter is recommended. Bee-friendly plants tend to be open-scented plants with easily accessible nectar. Ivy is very useful as a nectar source out of season.
Q. My 11-year old Beschorneria Yuccoides has flowered for the first time this year. Will it flower again?
A. Absolutely. It should flower every year now it has reached flowering age. Beschorneria Yuccoides is not 100% hardy - areas susceptible to hard, sustained or damp frosts would not be suitable for growing this plant.
Q. What is the best way to prune a very large, vigorous Wisteria?
A. Immediately after flowering, the long tendril-like growth should be removed. The plant invests a lot of energy into the production of these shoots, so removing them will improve the chances of flowering the following year. Spur pruning should then be done in winter.
Q. Could the panel suggest plants to suit a windy site (approx. 7ft, or 2m, wide) between a wall and a high hedge, with heavy clay soil?
A. Rubus Cockburnianus, a relative of the bramble, is recommended. Buddleia are also suggested, particularly the variety 'Globosa', which has round, orange flowers and is semi-evergreen.
Last on
Seven things Prince Charles says you should do in the garden