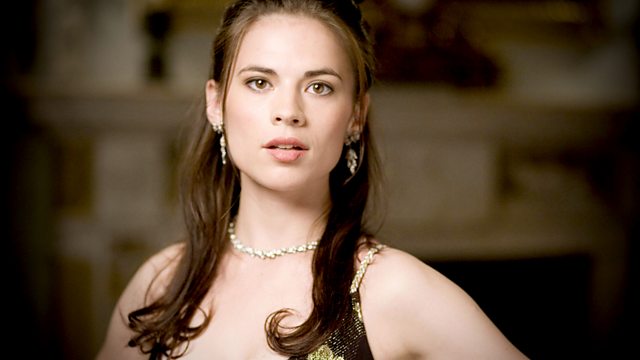 Hayley Atwell; Lady Justice Arden
Listen in pop-out player
Can nudity be empowering? The latest study into why some men kill their families. Powerlister Lady Justice Arden who sits on the Court of Appeal and is the UK's second most senior female judge. How the pain of nursing and losing a sick baby inspired poet Rebecca Goss to write a collection of poems which has earned her a place on the Forward poetry prize shortlist. And actress Hayley Atwell on her latest stage role in The Pride.
Last on
Can women be empowered by nudity and exhibitionism?
Listener and academic Dr Barbara Brownie got in touch with the programme following a recent discussion about the portrayal of women in the music video for  Blurred Lines by Robin Thicke and Pharell Williams. An explicit version of the video featured fully clothes men alongside women who are completely naked apart from nude coloured thongs.   She believes that however dangerous it may be to cast women as sex-objects in music videos, it is more dangerous to send the message that women should be ashamed of their sexuality. She says that in the right circumstances, women can be empowered by nudity and exhibitionism.   Is she right or are women objectified by nudity no matter what the circumstances?.
Jane Garvey speaks to  Dr Brownie, a lecturer in Visual Communication at the University of Hertfordshire alongside Frances Ryan, a New Statesman and Guardian Columnist and Alexandra Shevchenko from Femen a feminist Ukrainian protest group. 
Men who kill their families
A team of criminologists at Birmingham City University has published the first study into men who kill their families. The grim phenomenon that is known as 'family annihilation' is one of the least understood crimes according to Prof David Wilson who led the team.  He researched three decades worth of murders and found four different types of perpetrator. He also found that Sunday in August is the most likely time for a father to kill his children.
Hayley Atwell
Actor Hayley Atwell is probably best known as Peggy Carter, the wartime British agent girlfriend of Captain America. Now appearing on the West End stage in The Pride, which looks at changes in British attitudes to sexuality over the past 60 years. Hayley joins Jane in the Woman's Hour studio.
Powerlister The Rt Hon Lady Justice Arden DBE
Lady Justice Arden sits on the Court of Appeal and is the UK's second most senior female judge. Twenty years ago she was the first woman to be appointed to the High Court's Chancery Division, then the first woman to chair the Law Commission. In 2000 she became only the third woman to join the judicial ranks in the Court of Appeal. However women still represent just 16% of Appeal Court judges, with only one female out of twelve justices on the UK Supreme Court. Mary Arden is currently Head of International Judicial Relations for England and Wales and is a member of the Permanent Court of Arbitration in The Hague.
Rebecca Goss - Poems for a lost baby
The pain of nursing and losing a sick baby inspired poet
Rebecca Goss
 to write a collection which has earned her a place on the
Forward poetry prize
shortlist. The poems in Her Birth – which she calls her Ella poems -  chart the  illness and eventual loss of  her daughter after 18 months of life following a rare heart problem.  Rebecca reads extracts from the book and  talks to Jane Garvey about how putting the collection together helped her cope with her loss and keep the memory of her alive for her new daughter Molly. 
Credits
| Role | Contributor |
| --- | --- |
| Presenter | Jane Garvey |
| Interviewed Guest | Barbara Brownie |
| Interviewed Guest | Sophie Bennett |
| Interviewed Guest | David Wilson |
| Interviewed Guest | Mary Arden |
| Interviewed Guest | Hayley Atwell |
| Interviewed Guest | Rebecca Goss |
| Producer | Steven Williams |