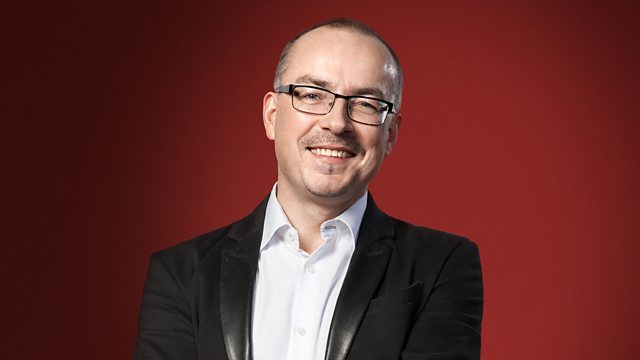 Summer CD Review
With Andrew McGregor. Including Tchaikovsky: Piano Concerto No 1; A round-up of the latest ways to enjoy classical music online; Brahms: Piano Sonata in F minor, Op 5.
Last on
09.05am
Berlioz: Overtures
BERLIOZ: King Lear Overture Op. 4; Le carnaval romain Overture Op. 9; Beatrice et Benedict Op. 27: Overture; Le Corsaire Overture Op. 21; Waverley Overture Op. 1; Les Francs-juges Overture Op. 3; Benvenuto Cellini Overture
Bergen Philharmonic Orchestra, Sir Andrew Davis (conductor)
CHANDOS CHSA5118 (Hybrid SACD)
TCHAIKOVSKY: Piano Concerto No. 1 in B flat minor Op. 23; Un poco di Chopin Op. 72, No. 15
CHOPIN: Barcarolle in F sharp major Op. 60
LISZT: Erlkonig, S558 No. 4; Fruhlingsglaube, S557c; Die Forelle, S564; Auf dem Wasser zu singen, S558 No. 2; Die Stadt; Liebeslied (Widmung)
Daniil Trifonov (piano), Mariinsky Orchestra, Valery Gergiev (conductor)
MARIINSKY MAR0530 (Hybrid SACD)
COMPERE: Dictes moy toutes voz pensees
MOUTON: Missa Dictes moy toutes voz pensees; Quis dabit oculis?; Ave Maria … benedicta tu; Salva nos, Domine; Ave Maria ...Virgo Serena; Nesciens Mater
The Tallis Scholars, Peter Phillips (director)
GIMELL CDGIM047 (CD)
RORE: Missa Doulce memoire; O altitudo divitiarum; Fratres, scitote; Illuxit nunc sacra dies; Missa a note negre
The Brabant Ensemble, Stephen Rice (conductor)
HYPERION CDA67913 (CD)
10.05am
Schubert: Complete works for violin and piano
SCHUBERT: Sonatina in D major, D384 (Op. posth. 137 No. 1); Sonatina in A minor, D385 (Op. posth. 137 No. 2); Sonatina in G minor, D408 (Op. posth. 137 No. 3); Grand Duo for Violin and Piano in A Major, D574; Rondo brillant in B minor, D895 (Op. 70); Fantasie in C major for violin and piano, D934; Sei mir gegrusst! D741 (Ruckert)
Alina Ibragimova (violin), Cedric Tiberghien (piano)
HYPERION CDA67911/2 (2CD mid-price)
Beethoven: Quartets Opus 18, Volume 1
BEETHOVEN: String Quartet No. 3 in D major Op. 18 No. 3; String Quartet No. 4 in C minor Op. 18 No. 4; String Quartet No. 5 in A major Op. 18 No. 5
Allegri String Quartet
VIVAT VIVAT103 (CD)
10.25am
James Jolly talks to Andrew about the latest developments in classical downloads, digital-only labels, streaming, and classical Apps of Beethoven, Britten and Liszt.
11.15am
BRITTEN: Peter Grimes
Alan Oke (Peter Grimes), Giselle Allen (Ellen Orford), David Kempster (Captain Balstrode), Gaynor Keeble (Auntie), Alexandra Hutton (First Niece), Charmian Bedford (Second Niece), Robert Murray (Bob Boles), Henry Waddington (Swallow), Catherine Wyn-Rogers (Mrs Sedley), Christopher Gillett (Rev. Horace Adams), Charles Rice (Ned Keene), Stephen Richardson (Hobson), Chorus of Opera North, Chorus of the Guildhall School of Music & Drama, Britten–Pears Orchestra, Steuart Bedford (conductor)
SIGNUM SIGCD348 (2CD mid-price)
11.35am
Brahms: Works for Solo Piano Volume 2
BRAHMS: Rhapsody in E flat major Op. 119 No. 4; Intermezzo in B flat minor Op. 117 No. 2; Intermezzo in A minor Op. 116 No. 2; Intermezzo in E major Op. 116 No. 6; Ballade in G minor Op. 118, No. 3; Ballade Op. 10 No. 2; Ballade Op. 10 No. 3; Piano Sonata No. 3 in F minor Op. 5
Barry Douglas (piano)
CHANDOS CHAN10757 (CD)