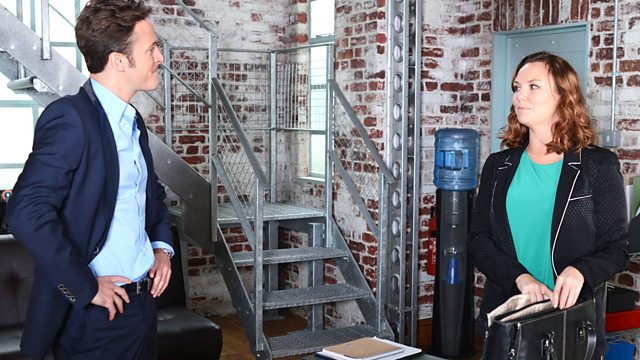 09/08/2013
Janine declines Danny's suggestive offer of a drink after work. She finds Michael having a picnic with Scarlett in the Square gardens and whisks Scarlett indoors. Michael follows, demanding he have Scarlett stay overnight. Amidst their arguing, Scarlett's left alone and her buggy topples over. Scarlett's fine but Janine welcomes Michael's support. They enjoy a glass of wine, Janine suggests she take 6 months off work to look after Scarlett. Michael smirks that Janine still wants him and will wait in the Vic for her call. Janine seethes, but later makes a phone call, telling someone to come round. Later, shocked Michael glances across the Square to see Janine letting Danny in, kissing him passionately.
Lauren's keeping busy with her running, but confesses to Poppy how difficult to it is to see people drinking, and that Max is smothering her and moping around. Poppy advises Lauren to do something positive. Lauren talks to Kirsty about addiction. Kirsty remembers Max used to look after her with chocolate cake and pasta. Lauren wonders if Kirsty still loves Max. Max waits at home, fending off Tanya's calls about Lauren. Lauren insists she needs peace and arrives home with Kirsty in tow - Max and Kirsty should work things out. Max kisses Kirsty, placing her wedding ring back on her finger.
Ian's terrified that Lucy's shown Janine the restaurant accounts. Lucy impresses with her R&R efficiency report and is appointed Assistant Manager of Existing Business at Butcher's Joints. At Scarlett's, Ian snaps at Jean when she's distracted listening to a French speaking tape. Jean threatens to quit. Ian lies that Carl's harassing him for a job. Jean scares Carl off talking about mental health. Lucy tells Ian she's kept the truth from Janine, but warns she's now effectively Ian's boss.
Sadie employs Sam to work on the salon renovations.
Last on
Credits
| Role | Contributor |
| --- | --- |
| Michael Moon | Steve John Shepherd |
| Janine Butcher | Charlie Brooks |
| Danny Pennant | Gary Lucy |
| Lauren Branning | Jacqueline Jossa |
| Kirsty Branning | Kierston Wareing |
| Max Branning | Jake Wood |
| Ian Beale | Adam Woodyatt |
| Jean Slater | Gillian Wright |
| Carl White | Daniel Coonan |
| Lucy Beale | Hetti Bywater |
| Ava Hartman | Clare Perkins |
| Sam James | Cornell S John |
| Sadie Young | Kate Magowan |
| Poppy Meadow | Rachel Bright |
| Alice Branning | Jasmyn Banks |
| Executive Producer | Lorraine Newman |
| Director | Nic Phillips |
| Writer | Carey Andrews |