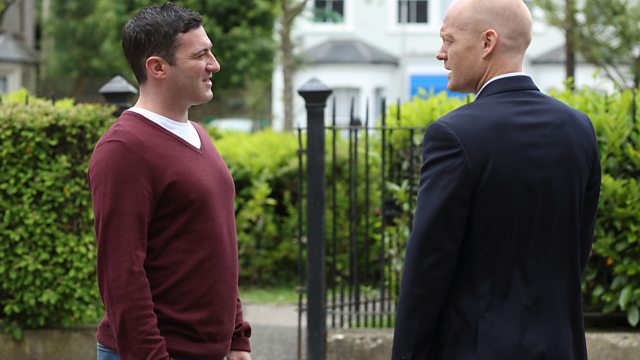 05/08/2013
Max returns, swearing from now on he's prioritising Abi and work. Carl apologises for using Kat to make Kirsty jealous. After seeing Max is back, Carl asks Kirsty to visit his mum. Max eventually goes to see Kirsty, admitting he can't forget her but can't t trust her. Kirsty tells Max to be at their flat after she finishes work - if not, they're over - and declines from visiting Carl's mum. Carl meets a man in the café - he needs a job doing. Abi thinks Tanya isn't coming back, and insists Max is allowed to be happy. Later, while Kirsty waits at the flat, Max is delayed by a punter on a potential big sale (who is really the man Carl met earlier). Carl calls to see Kirsty and, as Max hurries towards the flat, he appears at the window grinning, to Max's horror.
Michael's jealous to see Danny feeding Scarlett and has him checked on the sex offenders' register. Danny impresses Janine when he finds a desperate seller for Kenwyn house. Michael gloats Danny will never give Janine one important thing, then is surprised to see Danny flirting with a woman.
With a wedding date set for Valentine's Day, Alfie's keen to tell Kat himself. Kat avoids his calls, and Roxy breaks the news instead. Kat apologises to Carl for throwing herself at him. Later, Kat produces a pageboy suit for Tommy, insisting she's truly happy for Alfie.
Whitney worries to Kat she's lost Tyler's friendship and gives his moon necklace back. Heeding advice from Alfie, Tyler tells Whitney to keep it and they can be friends, but is unable to handle seeing Joey and later tells Whitney to stay away.
Poppy worries for her job after finding the salon's been sold and the new owner, Sadie, has started renovations.
Last on
Credits
| Role | Contributor |
| --- | --- |
| Max Branning | Jake Wood |
| Kirsty Branning | Kierston Wareing |
| Carl White | Daniel Coonan |
| Kat Moon | Jessie Wallace |
| Alfie Moon | Shane Richie |
| Roxy Mitchell | Rita Simons |
| Tyler Moon | Tony Discipline |
| Whitney Dean | Shona McGarty |
| Danny Pennant | Gary Lucy |
| Michael Moon | Steve John Shepherd |
| Janine Butcher | Charlie Brooks |
| Cora Cross | Ann Mitchell |
| Patrick Trueman | Rudolph Walker |
| Abi Branning | Lorna Fitzgerald |
| Bianca Butcher | Patsy Palmer |
| Poppy Meadow | Rachel Bright |
| Arthur 'Fatboy' Chubb | Ricky Norwood |
| Tamwar Masood | Himesh Patel |
| Jack Branning | Scott Maslen |
| Joey Branning | David Witts |
| Tiffany Butcher | Maisie Smith |
| Sadie Young | Kate Magowan |
| Warren | Billy Geraghty |
| Executive Producer | Lorraine Newman |
| Director | Nic Phillips |
| Writer | Patrick Homes |