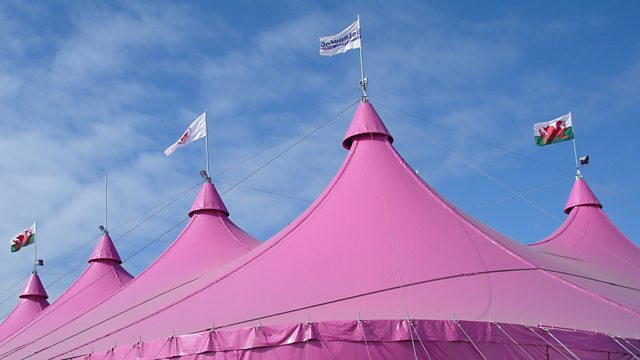 06/08/2013
The National Eisteddfod is not just an arts festival - there is plenty of science on offer too. Adam Walton explores the Eisteddfod's Science and Technology Pavilion.
Last on
National Eisteddfod 2013
This week's Science Café comes from the 2013 National Eisteddfod in Denbigh. The Eisteddfod is best known as a celebration of Welsh culture, encompassing poetry, music, drama and the visual arts, but science is becoming an increasingly important part of the Festival. Adam visits the Science and Technology Pavilion, hub of all things scientific on the Eisteddfod Maes.
Adam catches Dr. Robyn Wheldon-Williams, the Pavilion's organiser, between performances of his Sioe Fflach Bang, a dazzling display which shows both children and adults that chemistry can be fun. Robyn explains that the aim of the show – and the aim of the whole Science Pavilion – is to inspire the scientists of the future. Adam also meets Gareth Cemlyn Jones who's looking to inspire the engineers of the future. Gareth is from the North Wales Engineering Forum and he's challenging young visitors to use a model kit to design and build a fully-working sports stadium roof that opens and closes.
A major focus at this year's exhibition is the genetics, the diagnosis and the treatment of cancer. Dr. Edgar Hartsuiker, Chairman of Bangor University's Cancer Research Institute shows Adam the nuclei of his own cheek cells under a microscope. Edgar explains what happens to the DNA in the nucleus to trigger cancer and Edgar's colleague Jason Williams takes Adam for a stroll through a giant inflatable model of the human large intestine to show him the early signs of bowel cancer.
Adam also talks to Alwyn Owens whose distinguished career in engineering has earned him this year's Eisteddfod Science and Technology Medal. And he meets Dr. Sarah Roberts from the Faulkes Telescope Project and Robin Sheridan, a pupil at Ysgol Glan Clwyd in St. Asaph. Robin's suggestion to name an asteroid after the Victorian astronomer Isaac Roberts (who was born in nearby Groes) has just been accepted by the Minor Planet Center at Harvard University.