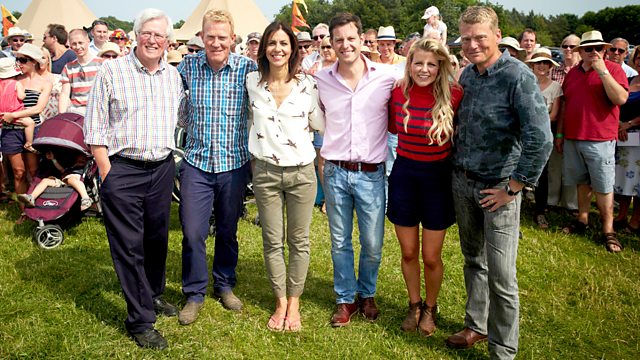 25th Anniversary
Countryfile celebrates its silver jubilee by throwing a party in the form of a traditional country summer fayre. Adam's farm in the Cotswolds is a frenzy of activity; there are stalls, food, entertainment and bunting as far as the eye can see. Along with 250 lucky Countryfile viewers, Matt Baker, Julia Bradbury, John Craven, Ellie Harrison, Adam Henson and Tom Heap are there to get the party started in good old-fashioned style.
Matt finds out about the importance of country fayres to rural communities, while Julia discovers what life is really like on Adam's farm when the cameras aren't rolling. John puts Matt and Julia's countryside knowledge to the test in a quiz, ably assisted by impressionist Jon Culshaw. He also reveals just how much money the Countryfile calendar has raised for Children in Need since it began - with a little help from Sir Terry Wogan.
Over in the produce tent, tensions are high as members of the audience and the presenters take part in a grow it, bake it, preserve it competition. Matt and chef Nigel Slater are on hand to judge and award the rosettes. Ellie is out on a wildlife walk with local school children seeking out nature on our doorstep before putting the finishing touches to the schools environmental garden.
Tom takes a look at a precious gift which has shaped our British landscape and which none of us could live without - water. It has been a running theme throughout all Countyfile's 25 years.
And the finale - a challenge set by Adam - tests how well the Countryfile presenters fare geese herding.
Last on
Happy 25th Birthday!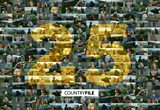 Twenty-five years ago, a brand new programme came to BBC One - Countryfile. The first episode was broadcast at Sunday lunchtime on 24th July 1988.  The presenters of the first show were Chris Baines, Caroline Hall, Ian Breach, Anne Brown and Roger Tabor. Items included the right to roam, rural housing and the problem of cats killing wild birds.
John Craven first appeared the programme in 1989. He is still at the heart of the programme. After a quarter of a century Countryfile is now regularly the most watched factual programme on British television and continues to go from strength to strength.
Join us for a special Silver Jubilee programme on Sunday, the 28th July, at 8pm on BBC One – or catch the programme on BBC I-player from Monday.
Credits
| Role | Contributor |
| --- | --- |
| Presenter | Matt Baker |
| Presenter | Julia Bradbury |
| Presenter | John Craven |
| Presenter | Ellie Harrison |
| Presenter | Adam Henson |
| Presenter | Tom Heap |
| Series Producer | Teresa Bogan |
| Participant | Terry Wogan |
| Participant | Nigel Slater |