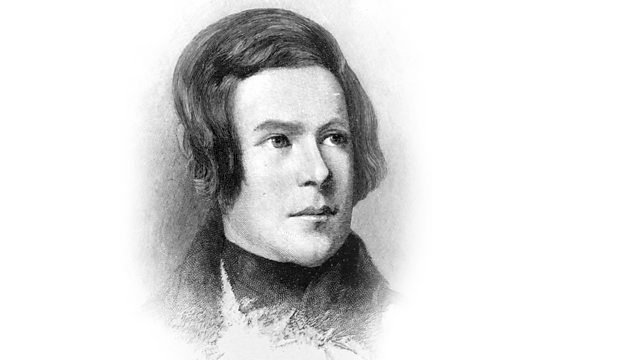 When Robert Schumann abandoned his legal studies, the world may have lost a lawyer, but it gained one of the freshest, most distinctive musical voices of the 19th - or any other - century. In this 70th anniversary week of the programme, Donald Macleod explores the work and life of this prototypically Romantic composer, who drew his inspiration as much from literature and the dramas of his own life as from the music of the composers he revered - above all, Bach, Beethoven and Schubert.
Largely self-taught, Schumann immersed himself in one musical medium until he felt ready to move on and tackle another. So this week's programmes look in turn at his five major fields of compositional activity: solo piano; song; chamber music; music drama; and music for orchestra.
Schumann's orchestral output is the focus of the last of the week's programmes, with a complete performance of his 4th Symphony of 1841 (in its lusher 1851 revision). Donald also introduces an extract from one of Schumann's most exuberant and original works, the Konzertstück for 4 horns and orchestra, written during the composer's most productive year, 1849; and the strangely haunting Phantasie for violin and orchestra, one of Schumann's last completed works. It was written in the afterglow of encounters with the 18-year-old Joachim - six years into his career and already one of the foremost violinists in Europe - and a little-known composer, recently turned 20, who had the chutzpah to pitch up on the famous man's doorstep with a satchelful of his own compositions: Johannes Brahms.
Last on
More episodes
Next
You are at the last episode