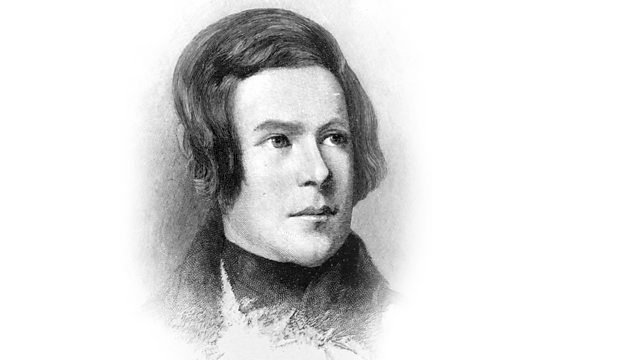 When Robert Schumann abandoned his legal studies, the world may have lost a lawyer, but it gained one of the freshest, most distinctive musical voices of the 19th - or any other - century. In this 70th anniversary week of the programme, Donald Macleod explores the work and life of this prototypically Romantic composer, who drew his inspiration as much from literature and the dramas of his own life as from the music of the composers he revered - above all, Bach, Beethoven and Schubert.
Largely self-taught, Schumann immersed himself in one musical medium until he felt ready to move on and tackle another. So this week's programmes look in turn at his five major fields of compositional activity: solo piano; song; chamber music; music drama; and music for orchestra.
Today's programme is set largely in 1840, Schumann's 'year of song'. It was an extraordinary period of creative fertility that followed in the wake of his reunion with Clara Wieck, the sweetheart from whom he had been separated for many months. The year of song was far from idyllic; for much of it, Schumann had to contend with the litigation initiated by Clara's father, Friedrich, who was implacably opposed to their relationship. Implacable or not, he lost the battle, and on the 12th of September 1840, Clara Wieck became Clara Schumann. More than half of Schumann's output of lieder, much of it infused with his feelings for Clara, dates from this single year, including one of his finest song-cycles, Dichterliebe - The Poet's Love. Right at the other end of the spectrum are the 5 Hunting Songs of 1849, for male chorus and a quartet of horns.
Last on