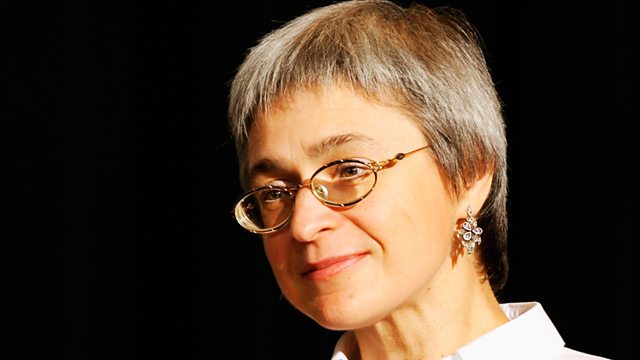 Anna Politkovskaya murder trial; Holocaust survivor
Last on
Women economists
On Thursday, the new Governor of the Bank of England Mark Carney told the Today programme that it is 'striking' there are no women currently on the Monetary Policy Committee. In fact, since the MPC was formed in 1997, only four women have ever been appointed to hold one of its nine positions.  Although it is the treasury, rather than the Bank of England itself, which appoints to the MPC, the governor said that the bank still has a responsibility to "grow top female economists through the ranks". So is it true that women are still behind men when it comes to top positions as economists? Jenni is joined by Kate Barker, the last female economist to be on the MPC (before she left in 2010), and Gillian Tett, economist and Assistant Editor of the Financial Times.
Anna Politkovskaya murder trial
Anna Politkovskaya, Russia's most famous opposition journalist and a scathing critic of Kremlin power, was shot dead in her Moscow apartment block on October 7th 2006. A trial in 2009 left the case unsolved, as four men accused of helping to organise the killing were acquitted. However, Politkovskaya's children have always maintained that she was a victim of political assassination, and that the 'higher up' people who were responsible for ordering her killing have never been brought before a court. Last month, five men – three of which were previously acquitted – were put on trial charged with involvement in the murder, but Politkovskaya's children have again dismissed the proceedings as "patently illegitimate". Anna's daughter, Vera Politkovskaya, tells Woman's Hour why she is boycotting the current trial, and BBC Moscow correspondent Daniel Sandford gives Jenni an update on the case.
Auschwitz survivor Kitty Hart-Moxon
Kitty Hart-Moxon was 12 years old when the Second World War broke out. Born to a Jewish family, she was soon forced to flee her home country Poland to escape persecution from the Nazis. She eventually ended up as one of the millions of prisoners sent to Auschwitz, where she survived until the Allied forces' liberation in 1945. After the war she and her mother came to live in Birmingham, but it was over ten years before anyone in England asked her to tell her story. She says that, in the years after the war, one colleague once saw her number tattoo on her arm and asked "is that your boyfriend's telephone number?"
Last month Kitty was awarded an honorary doctorate from the University of Birmingham, in recognition of her tireless work over the last sixty years teaching younger generations about the Nazi regime. She joins Jenni to explain why she is determined to never let the world forget what happened.
Lesbians and cervical cancer
Over the last three years, the Lesbian and Gay Foundation have been campaigning to raise awareness of cervical cancer screening for lesbians. It follows a study carried out by the foundation which found that 17.8% of lesbian women of eligible age had never had a cervical screening test, compared with 7% of women in general. They believe these numbers indicate a misconception within the lesbian community that women who have only female sexual partners are not at risk of developing cervical cancer - which is not true. The foundation argues that more must be done to re-educate both women and health professionals, to ensure that this myth is debunked. Jenni is joined by Annie Emery from the Lesbian and Gay Foundation, and Dr Helen Stokes-Lampard from the Royal College of General Practitioners. 
The Armitt sisters
The Armitt Sisters – three of them – were born in Salford, but it's in the Lake District, rather than in their home city, where they're best known.  Sophia was born in 1847, Annie in 1850 and Mary Louisa – known as Louie – in 1851. Unusually for women of the period they were highly educated. Louie received a scholarship to Cambridge. They eventually settled near Ambleside, and between them collected together some of the most important manuscripts, books and maps about the Lakes, including reams of scientific papers written by Beatrix Potter. Their collection was eventually gathered together in a museum bearing their name. Caz Graham went to visit it, and spoke to the library's guides Clare Brockbank and Barbara Crossley.
Credits
| Role | Contributor |
| --- | --- |
| Presenter | Jenni Murray |
| Producer | Cecile Wright |
| Editor | Nicola Swords |
The Woman's Hour 2015 Power List: Influencers