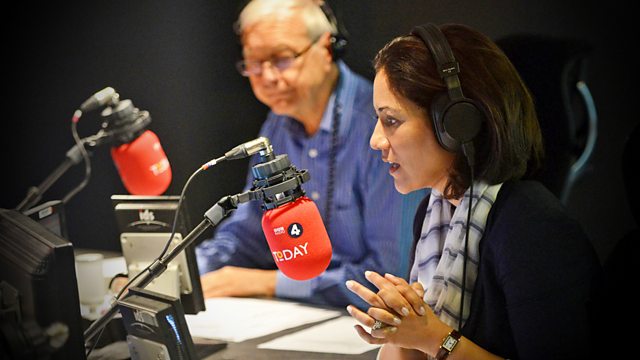 09/08/2013
Morning news and current affairs with Justin Webb and Evan Davis, including:
0751
Three times as many men commit suicide as women and Campaign Against Living Miserably (CALM) says that the Department of Health is failing to recognise the problem. Martin Seager, former head of psychology at the North East London Mental Health Trust, explains what the government might be able to do to address the issue.
0810
Only one of the 20 most-wanted tax evaders and fraudsters has been tracked down since they were named on a government list last year. The Today programme's Sima Kotecha reports and Sajid Javid, Economic Secretary to the Treasury, outlines what needs to be done.
0820
Leonardo da Vinci's studies of the human body, the subject of a current exhibition at The Queen's Gallery, Palace of Holyroodhouse in Edinburgh, have been proved remarkably accurate by later imaging techniques such as MRI, the results of which are also shown alongside Leonardo's drawings. Daksha Patel, contemporary artist, and Martin Clayton, curator of the Queen's Gallery exhibition in Edinburgh, discuss art's fascination with the anatomy.
0831
Edinburgh Zoo has said there are "strong indications" that its female giant panda is pregnant. Iain Valentine, director of the zoo's giant panda programme, and Isabel Hilton, editor of china dialogue.net, discuss the news.
Last on
A rundown of stories from Friday 9 August including programme highlights and comment.
Life Inside 'Islamic State': Diaries