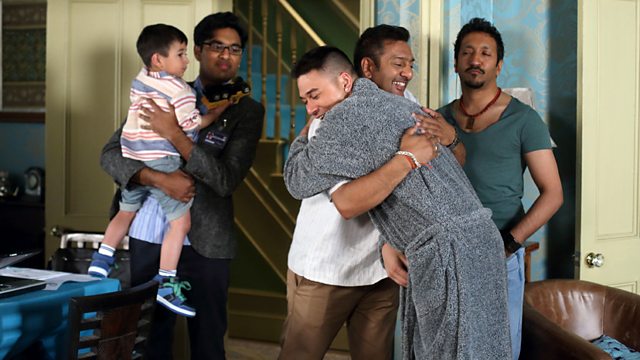 29/07/2013
Carol's concerned about Whitney. Whitney brightly suggests she make dinner for everyone, including Masood who's returned. Tiffany's upset Bobby's not invited. Whitney throws herself into work at playgroup, cheering up Frankie, a little boy who's upset after finding out his mum's pregnant. When Frankie runs off, wanting to apologise to his mum, Whitney's grateful to Joey who helps catch him. Not wanting to talk, Bianca tells Whitney to go out with Tyler. Over dinner at Scarlett's, Whitney tries to open up about Tony. Unable to cope with Whitney's feelings about Tony, Tyler blurts that maybe she's not fit to work around children. Whitney's hurt, throws down her engagement ring and storms off. Escaping to R&R, she tells Joey she's finished with Tyler, kisses him and leads him out of the club.
Kat's shaken to learn of Roxy and Alfie's engagement party tomorrow. Alfie asks Michael to keep an eye on Kat. Michael's smug from having spent a few hours with Scarlett while Alice is off sick, and having persuaded Janine to come to a classical music baby event for Scarlett. But he's waylaid trying to comfort a depressed Kat after she's vented her frustrations in an argument with Bianca. Kat tells Michael to go fix his fake relationship with Janine, but he arrives to the community centre too late. Janine tells Michael she can manage without him.
Peter steps in to run the chip shop for the day while Ian's at a meeting. Peter ropes in Lucy to help. When Ian finds her there, he's triumphant which infuriates Lucy. Peter tells Ian to do whatever it takes to get her back.
Fatboy's enjoying life at the Masoods'. Tamwar's down when he finds his new measures to crackdown on lax market traders haven't worked. Fatboy cancels his evening with Poppy to be there for Tamwar.
Last on
Credits
| Role | Contributor |
| --- | --- |
| Whitney Dean | Shona McGarty |
| Joey Branning | David Witts |
| Tyler Moon | Tony Discipline |
| Bianca Butcher | Patsy Palmer |
| Liam Butcher | James Forde |
| Carol Jackson | Lindsey Coulson |
| Kat Moon | Jessie Wallace |
| Michael Moon | Steve John Shepherd |
| Janine Butcher | Charlie Brooks |
| Danny Moon | Gary Lucy |
| Ian Beale | Adam Woodyatt |
| Peter Beale | Ben Hardy |
| Lucy Beale | Hetti Bywater |
| Roxy Mitchell | Rita Simons |
| Alfie Moon | Shane Richie |
| Masood Ahmed | Nitin Ganatra |
| AJ Ahmed | Phaldut Sharma |
| Tamwar Masood | Himesh Patel |
| Arthur 'Fatboy' Chubb | Ricky Norwood |
| Ava Hartman | Clare Perkins |
| Morgan Butcher | Devon Higgs |
| Tiffany Butcher | Maisie Smith |
| Frankie | Max True |
| Executive Producer | Lorraine Newman |
| Director | Karl Neilson |
| Writer | Wendy Granditer |