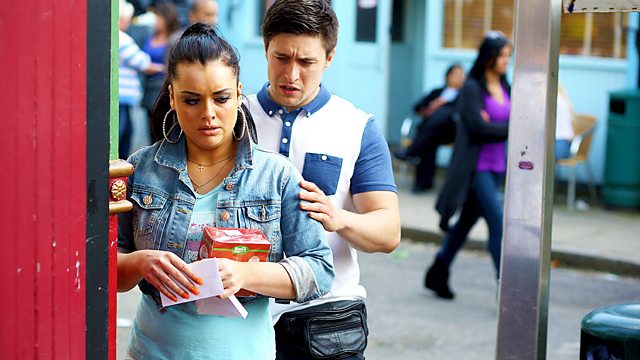 25/07/2013
A man, Pogo, waits for Whitney outside the Butchers' with a letter from Tony; Whitney claims she's not interested. At work, Ava sends Whitney to buy tea bags. Pogo follows and Whitney eventually takes the letter then reacts badly when Tyler approaches. In the pub, Whitney shows Tyler the letter 'Dearest Whit, I always loved you, T x'. Tyler suggests she ignore it but Whitney later enquires about applying for a prison visiting order.
Bianca hasn't slept, paranoid she might be sent back to prison. Carol appeals to Denise who agrees to talk to Ian. Bianca bunks off work. Ian's stressed and has no-one to look after Bobby. Denise persuades Kim to mind the shop so she can step in but Ian's ungrateful. Denise's exasperated by Ian's behaviour. Later, contrite, Ian buys her flowers and apologises. Ian's furious when he discovers Bobby's snuck out to play with Tiffany. Denise begs Ian not to call the police, she just wants the old him back. Tiffany and Bianca arrive, Ian agrees not to go the police but makes Bianca agree that Tiffany will never play with Bobby again then sacks Whitney. Later, Tiffany's sad when there's no reply from Bobby on the walkie talkie.
When Sam arrives at Ava's with a juke box, Dexter worries she'll go nuts. Ava invites Cora to a welcome lunch and Dexter begs her to come. Dexter and Cora are astonished when they arrive to find a happy Ava and Sam dancing as the juke box plays.
With Sam moving out of the B&B, Kim turns her attentions to Fatboy. Unimpressed, Poppy decides Fatboy should move out too. Tamwar's annoyed with AJ for swiping rent money and takes Fatboy in as a lodger; as of tomorrow AJ's on the sofa.
Last on
Credits
| Role | Contributor |
| --- | --- |
| Whitney Dean | Shona McGarty |
| Bianca Butcher | Patsy Palmer |
| Ian Beale | Adam Woodyatt |
| Denise Fox | Diane Parish |
| Carol Jackson | Lindsey Coulson |
| Jean Slater | Gillian Wright |
| Tamwar Masood | Himesh Patel |
| AJ Ahmed | Phaldut Sharma |
| Arthur 'Fatboy' Chubb | Ricky Norwood |
| Poppy Meadow | Rachel Bright |
| Kim Fox | Tameka Empson |
| Kat Moon | Jessie Wallace |
| Dexter Hartman | Khali Best |
| Sam James | Cornell S John |
| Ava Hartman | Clare Perkins |
| Cora Cross | Ann Mitchell |
| Tyler Moon | Tony Discipline |
| Liam Butcher | James Forde |
| Bobby Beale | Rory Stroud |
| Tiffany Butcher | Maisie Smith |
| Morgan Butcher | Devon Higgs |
| Pogo | Pete Lee-Wilson |
| Executive Producer | Lorraine Newman |
| Director | Lance Kneeshaw |
| Writer | Christopher Reason |