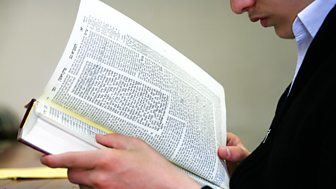 The Story of the Talmud
Naftali Brawer delves into the ancient texts of the Talmud, which hold the key to unlocking Jewish thinking and history
On radio
There are no upcoming broadcasts of this programme
Last on
Wed 24 Jul 2013 11:00
BBC Radio 4
Weblinks relating to The Story of the Talmud
Navigating a page of Talmud
Rabbi Naftali Brawer's blog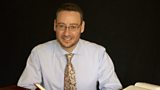 I have visited Israel many times and I even lived there for a few months on Sabbatical some years ago yet on this trip I saw a side of Israel I had never seen before. I saw it through the prism of the Talmud. Israelis in general  enjoy  arguing and disagreeing about most things and the Talmud is no exception. This great book, for Jews second in importance only to the bible, means many different things to many different people. Lovers of literature take delight in the wisdom of its stories, ethicists look for the broad values that underpin its system of law, feminists tune into the occasional but powerful voices of women that emerge from the text, mystics look for hidden truths, religious Jews seek practical guidance in its laws, politicians find inspiration in its socio-political ideals, educators respond to its highly effective dialectic method and logicians love its complex form of argumentation. Yet amongst this very disparate group of Talmud aficionados there emerged two distinct points of view. There are those who see the Talmud as a repository of wisdom and they approach it as one would approach any great work of literature or science. On the other hand there are those who see the Talmud as the distilled word of God and they study it in what can only be described as a ritualistic way. For them its study is not merely about acquiring knowledge or wisdom, it's about communing with God. It's a form of devotional service, like prayer.
.....
One of the highlights of this trip was visiting Bet She'arim the Galilean village that was the birthplace and final resting place of Rabbi Judah the Prince, the second century redactor of the Mishnah (the earliest part of the Talmud.) The village sits on a hilltop overlooking a lush valley. The topography has hardly changed in two millennia and looking out at the view that Rabbi Judah would have seen sent shivers down my spine. We arrived late morning under a baking sun and for the occasional chirping of birds and crickets all was peaceful and silent. Our guide Barnea Selavan was explaining the political situation in the second century under harsh Roman occupation. The emperor Hadrian unleashed a wave of religious persecution that claimed the lives of some of that period's greatest Torah scholars and it was in the aftermath of this period that Rabbi Judah began to record the mishnah. As Barnea was talking the heavens filled with the thundering sound of Israeli fighter jets streaking across the sky in formation. What we didn't know before recording was that Bet She'arim is situated near an Israeli Air Force training camp. For the next half hour we waited in vain for a silent stretch to resume recording. As I watched the fighter jets from below, I became aware of the irony of the moment. We had just discussed Jewish vulnerability and persecution in the second century land of Israel and here I was standing on the same spot as my persecuted ancestors witnessing the military capacity of the Israeli Defence Force.
......
We interviewed many people for this programme and they all contributed important aspects to the story of the Talmud. The most meaningful interview for me on a personal level was that of Rabbi Professor David Weiss Halivni, an outstanding Talmud scholar and holocaust survivor. I read his autobiography "The Book and the Sword" years ago and was very taken by him. He was a child prodigy in pre war Hungary and by the time he had reached his Bar Mitzvah he had memorized hundreds of pages of Talmud. We agreed to meet at Hebrew University after one of his seminars. We had difficulty finding the right building and so we arrived a little late. Professor Halivni was waiting for us attired in a crisp white shirt, dark suit and ...tie. No one in Israel wears a tie, and certainly not in June. It seems that the Professor thought we were doing a TV program! If he was disappointed he certainly didn't show it and he spoke movingly about how the Talmud sustained him throughout some of the most trying periods of his life. It was clear that for him the Talmud is so much more than an academic subject. It is, as he described, "a trusted friend."
......
The practical outcome of having worked on this program is that I have taken up studying Daf Yomi again. Daf Yomi ,instituted in 1923 is a scheme whereby one systematically  studies a folio page of Talmud each day thus completing the entire Talmud (all 2,711 pages) in just over seven years.  Despite studying Talmud almost all my life I have never come close to completing it. It did try Daf Yomi  some years ago, at the start of a new cycle, and I carried on for about a year but then fell off the wagon. It's a daunting commitment to make and I can't be certain that I will complete the cycle. But I want to and I am going to give it my best shot. Presenting "The Story of the Talmud" has given me a renewed appreciation for this great intellectual treasure. We often take for granted those things that are closest to us and in my case it's the Talmud
Top topics for this programme