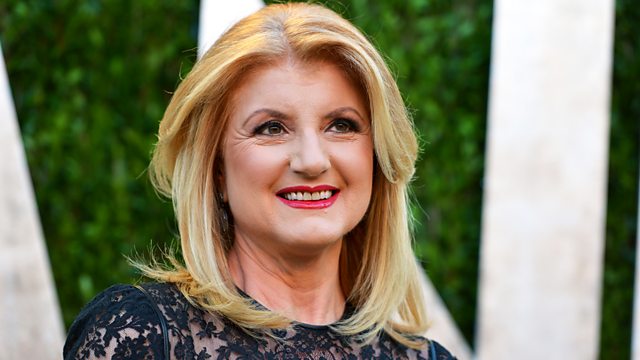 Arianna Huffington, tutoring, African fashion week
Listen in pop-out player
Arianna Huffington, the editor-in-chief of The Huffington Post, explains why she thinks we need a new approach to how we work and how we define success, and she says that this change will only succeed if it's led by women.
Tutoring over the summer holidays, do children really need it to avoid the 'summer slide'?
We hear from the victims of trafficking who are being helped to become entrepreneurs by a leading business school.
Africa Fashion Week starts this Thursday in London. We'll be talking to two designers about why African fashion has become such a hit in the UK and how we can update our wardrobes with some African prints.
Will some women's sports records never be beaten? Many womens records were set in the 1980s and some are now over 30 years old. In a era when there was controversy over the use of performance enhancing drugs, are these records ever likely to be broken again? And is it time to restart the clock for women's world records?
Last on
Arianna Huffington
Arianna Huffington is the President and editor-in-chief of The Huffington Post , one of the most widely read news websites in the world. She has been named on the Forbes List list as one of the most powerful women in the US and Time Magazine ranked her among the 100 most influential people in the world. She's now in the UK to host the Third Metric conference which hopes to change the way we think about work and how we define success.
Africa Fashion Week
Africa Fashion Week starts this Thursday in London celebrating the work of African and African inspired designers. We have two designers in the studio to talk about the success of African fashion in the UK and the best ways to wear African prints.
Tutoring over the summer holidays
The summer holidays have begun and so has the debate over whether children should be doing extra work to avoid the so-called summer slide. Many parents are even turning to tutoring to help their children keep on target with their learning or give them an extra push. But should they be keeping up with academic work or should we all just take a break?
Sarah Ebner, author of Starting School Survival Guide and Carol Vorderman discuss.

HERA
Vulnerable women who have been victims of human trafficking and other forms of exploitation, are getting entrepreneurship training at one of the top ranking universities in the world. Devised by the charity Her Equalities, Rights and Autonomy (HERA), and delivered by teachers at Imperial College Business School in London,  the scheme is helping vulnerable women who have survived often traumatic situations, to become financially independent. Andrea is joined by Lynellyn Lond, founder of HERA, Rahul Bansal ,a teacher and mentors at Imperial, and one of the students, Michelle. 
Are there sports records women will never break?
Last Friday (26th July) was the 30th anniversary of the women's 800 meter world record, won by Jarmila Kratochvilova in Munich in 1983.    It has not been beaten since and in the Olympics in London last year not one runner had been born when the record was set.  In the next five years three more women's world records will reach the age of 30: the 100 metres, 200 metres and 400 metres.  These records were  obtained at a time when the use of performance enhancing drugs was rife,  so does it make them unbeatable. And is it  time to start the clock again for women's world records? Michele Verroken Director of Sporting Integrity and formerly head of  the UK's ethics and doping programme joins Andrea.
Credits
| Role | Contributor |
| --- | --- |
| Presenter | Andrea Catherwood |
| Producer | Steven Williams |
| Interviewed Guest | Arianna Huffington |