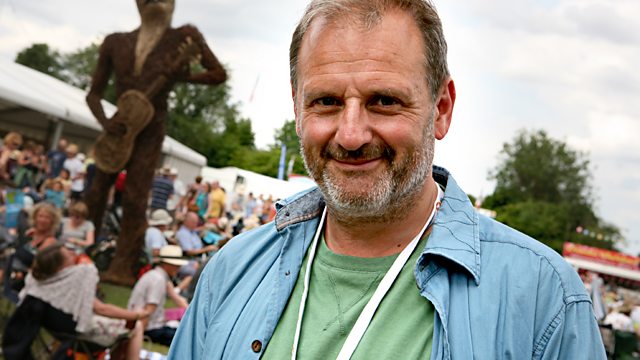 Cambridge Folk Festival
Mark Radcliffe completes Radio 2's weekend of coverage from the prestigious summer festival, with two more hours of live music, highlights and backstage interviews.
Broadcasting live from the grounds of Cherry Hinton Hall, Mark will introduce performances from some of folk and roots music's biggest and best-loved acts, including The Waterboys, Bellowhead, Steeleye Span, Martin Carthy & Dave Swarbrick, The Staves and LAPD (Liam O'Flynn, Andy Irvine, Paddy Glackin and Donal Lunny). Mark will also shine a light on some of the lesser-known artists performing at the 49th Cambridge Folk Festival.
The festival was founded by Cambridge City Council in 1964 and it's very first bill featured a relatively unknown Paul Simon. Since then the event has become widely celebrated for its relaxed atmosphere and diverse, high quality acts.
Radio 2 has been broadcasting live music and highlights from Cambridge for many years. This year's coverage includes a three-hour programme hosted by Dermot O'Leary on Saturday 27 July and this two-hour special presented by Radio 2's Folk Show host, Mark Radcliffe.
The headline acts in 2013 are The Mavericks, The Waterboys and Bellowhead. Mighty, many-headed folk phenomenon Bellowhead were formed nearly 10 years ago by acclaimed duo Spiers & Boden. Following in the footsteps of acts like Brass Monkey, Bellowhead combined folk music with a bombastic brass section, inspired arrangements and a theatrical live show that makes the most of the drama inherent in traditional songs.
The Waterboys were formed in by Mike Scott in 1983, and despite working in a number of musical fields, have consistently had a celtic vein running through their enduring brand of acoustic rock. During the 1980s and 90s they released a number of top-ten singles and albums including The Whole of The Moon and Fisherman's Blues. They split in 1993 but reformed in 2000, and their latest album, An Appointment With Mr Yeats, focuses successfully on arranging the poetry of WB Yeats.
Last on
With live music from KT Tunstall, Valerie June, Luke Sital Singh, Emily Barker and more.