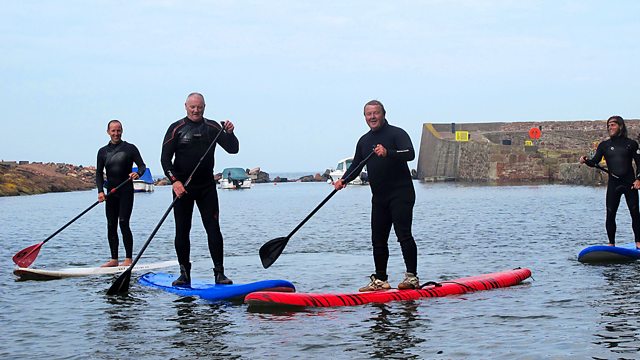 27/07/2013
Mark and Euan experiment with stand-up paddling - a new way of exploring coastal waters. The sport requires an over-sized surfboard, long paddle and a good sense of balance. Their instructor provided only two of those.
Wild fire. How rangers on the Glen Tanar estate are guarding against the fire risk - even after the storms.
The Borders Union agricultural show celebrates its 200th anniversary.
Can a new bus service help transform life in a village? Residents of Braemar delight in their new link with Perth.
The sculptor who combines engineering skills with an artist's eye to make unique copper sculptures of wildlife.
Soaking in the views of Arran from the beautiful Kintyre Way.
Plus, the sailing project that helps fathers and sons bond.
And Mark Stephen rides the footplate of a steam train into Scotland's newest station.
Last on