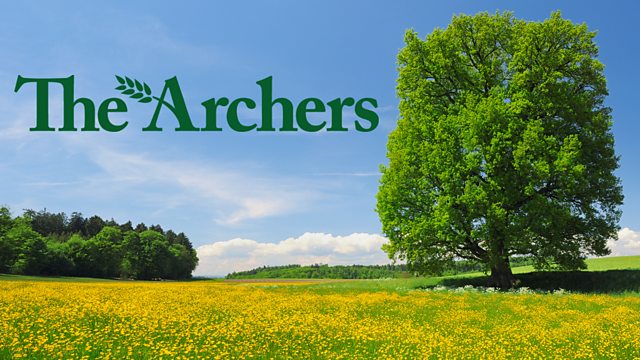 26/07/2013
Rob is frustrated that Jess has decided at short notice not to come up to Ambridge this weekend. Helen takes him to her office for a chat and he appreciates the opportunity to air his frustration. Talking to Helen helps but he realises he should be talking things through with Jess.
Oliver catches ailing Caroline out of bed. She wants to know about Grey Gables. He assures her that everything's been taken care of.
Kathy's frustrated by Martyn Gibson. He's been throwing his weight about all week and she's sick of the sight of him but is worried he wants a scapegoat for the drop in income.
Pat thinks £15 is a lot for the silent movie evening but tickets are selling quite well. Kathy points out there's a free drink, and they have to make a profit for the organ fund.
Kathy remarks that Anya told her Helen was talking to Rob in her office. Pat is surprised to hear this. Helen claims he wanted to thank her for some ideas she'd given him for his welcome pack. Pat asks whether his wife is any closer to finding work locally. Unsettled Helen says she doesn't know and doesn't care.
Last on
Credits
| Role | Contributor |
| --- | --- |
| Kenton Archer | Richard Attlee |
| David Archer | Tim Bentinck |
| Ruth Archer | Felicity Finch |
| Pat Archer | Patricia Gallimore |
| Helen Archer | Louiza Patikas |
| Tom Archer | Tom Graham |
| Lilian Bellamy | Sunny Ormonde |
| Jolene Perks | Buffy Davis |
| Fallon Rogers | Joanna Van Kampen |
| Kathy Perks | Hedli Niklaus |
| Jamie Perks | Dan Ciotkowski |
| Eddie Grundy | Trevor Harrison |
| Will Grundy | Philip Molloy |
| Oliver Sterling | Michael Cochrane |
| Caroline Sterling | Sara Coward |
| Lynda Snell | Carole Boyd |
| Jazzer McCreary | Ryan Kelly |
| Jim Lloyd | John Rowe |
| Rob Titchener | Timothy Watson |
| Martyn Gibson | Jon Glover |
| Anthea | Joanna Brookes |
| Meriel | Grace Quigley |
| Guy Mowlam | Chris Jack |
| Director | Kim Greengrass |
| Director | Sue Wilson |
| Producer | Julie Beckett |
| Producer | Vanessa Whitburn |
| Writer | Adrian Flynn |