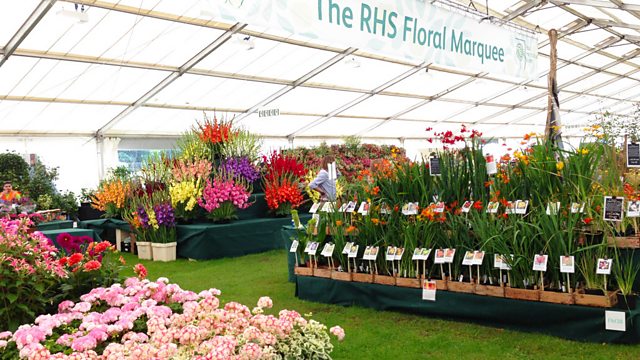 RHS Tatton Flower Show
Listen in pop-out player
Eric Robson is at the RHS Tatton Flower Show for this week's episode of Gardeners' Question Time. Joining him are gardening experts Chris Beardshaw, Christine Walkden and Pippa Greenwood, who will be tackling the audience's horticultural questions.
Produced by Howard Shannon
A Somethin' Else Production for BBC Radio 4.
Q. I recently lost a Clematis and have been told it was due to clematis wilt. For future reference, is there anything to cure clematis wilt?
A. With a Clematis there is a tendency to assume it was infected by clematis wilt if it becomes infected or starts to wilt however clematis wilt is considered quite rare so it is a good idea to check for signs of other infections. Firstly, check under the bark to see if it is still living, then check the base to see if the plant has not been infected by a bacteria or fungal infection such as Honey Fungus which can cause dramatic wilting.
Q. My garden has been left overgrown since 1850. It has long rough grass and very little topsoil. What can I do to maintain it without too much effort?
A. Hit the garden with a brushwood strimmer to take the vegetation down and reduce in height. Remove vigorous plants and allow a year of fallow. Then spot treat with a systemic herbicide any of the invasive perennial weeds. Choose a mix of vigorous exotic herbaceous plants and reasonably vigorous native grasses, which are resilient and will reduce the fertility of the soil. A good example would be Yellow Rattle, which is a hemi-parasitic.
Q. How long does it take for a Tulip Tree (Liriodendron Tulipifera) to bloom?
A. As a general rule it will take about 10 - 15 years. To induce your tree into flower you could stress it slightly by reducing its food. Give it a rose or tomato feed instead of a high nitrate fertiliser.
Q. My courgettes are grown in a poly tunnel and unfortunately seem to be rotting prematurely. Does the panel have any advice?
A. This is sometimes linked with fluctuating temperatures or is also a result of congested overgrown beds with too much foliage. Therefore a tunnel is not the best environment for courgettes, due to the muggy, humid atmosphere. One suggestion is to raise the plant up when the foliage starts to grow, using bricks, try to grow the plant off the ground so ventilation can flow through the plant. Also open both ends of the tunnel to allow as much air flow as possible.
Q. I have a deep west-facing windowsill - what suggestions to the panel have for a feeling of a garden indoors?
A. Christine would opt for ferns, philodendrons and tropical plants, for a sense of mystic and jungle. Chris would suggest exploring Bonsai, meaning a plant in a pot and surrounding your pot with other plants like Salaginella and Soleirolia which will give a forest floor environment. Finally Pippa would suggest growing your own herbs such as basil, lemon grass and coriander.
Q. I've never had any luck keeping a Poinsettia plant until Christmas. However this year my Poinsettia is still in full bloom, seven months later. Do I leave the plant to carry on growing or do I cut it back to allow it to grow again for next Christmas?
A. It would be best advised to leave the plant alone and continue the same regime. It if goes out of flower then consider cutting back, drying off and allowing it to grow for the next winter.
Q. Why are my radishes tiny and woody?
A. It could be due to the dry weather conditions. The swelling of the root is hugely linked to soil moisture levels therefore it needs a constant supply of moisture and fertile soil.
Q. I have just taken over an allotment full of Mare's Tail, could the panel suggest ways to clear it?
A. When spraying with a weed killer the plant add a small amount wetting agent such as washing up liquid and also damage the surface of the plant, which allows more of the spray to get into the body of the plant. This is because the plant has a very high silica content in it meaning you will often notice that water tends to gather and drop off the plant rather than soak in. Also, try and dig as much of it as possible rather than cutting it down.
Last on