The Marcos Mystery?
John Waite goes on the trail of the woman who, he's told, claims to be the daughter of the former President of the Philippines, Ferdinand Marcos, and is about to inherit his missing millions.
She says she is a good Samaritan but her critics disagree. Claiming to be on the verge of a huge inheritance she's borrowed tens of thousands of pounds from Filipinos in London, they say. Claiming to be employed by the Home Office she's said to have accepted hundreds of pounds for immigration advice. Claiming to be an investment guru it's alleged that she has taken hundreds of thousands more from Swedish investors, and as a fish trader it's said that she's left a trail of out-of-pocket fishmongers at Billingsgate Fish Market. They also say she's claimed to be an airline pilot and daughter of a former Miss Spain. Never interviewed before she tells John why she believes her many critics are simply just jealous liars.
Producer: Joe Kent
Presenter: John Waite.
Last on
Helena Pedroche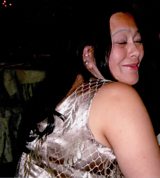 Helena Pedroche who says she is nothing more than good Samaritan and her critics are all jealous liars