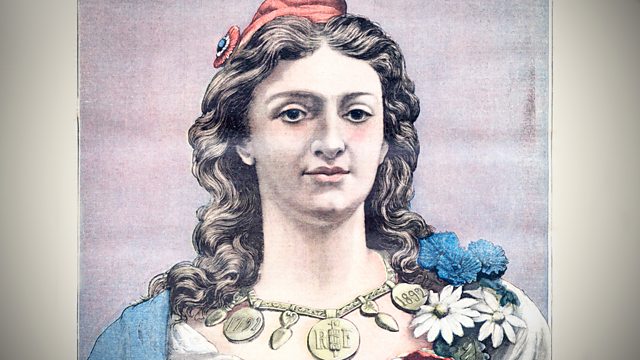 Stephanie 'Steve' Shirley
Listen in pop-out player
Research into women's experience of so-called "trolling" when they take part in public events; how an 11 year old rape-victim has sparked an abortion row in Chile; Dame Stephanie "Steve" Shirley - philanthropist and Woman's Hour Powerlister; Marianne - symbol of La Republique, who appears on stamps in France - and now updated in an image inspired by a topless feminist protestor; and baby talk - what is the best way to speak to a young baby? Presenter: Jenni Murray. Producer: Emma Wallace.
Last on
Lis Howell
Lis Howell discusses why we need to know more about women's experience of  so-called  "trolling" - online abuse or gender based criticism – and whether it is putting off some women from taking part in public events. She has also helped Broadcast Magazine launch its Expert Women campaign last year to raise awareness of the gender imbalance on screen and on the airwaves.

Eleven year old rape-victim sparks abortion row in Chile
Latin America has the world's highest rate of unsafe abortions. In El Salvador, the Dominican Republic, Nicaragua, Chile, Honduras, Haiti and Suriname abortions are illegal without exception , even in the case of rape or if the mother's life is endangered. In Chile the issue has been widely debated following the case of an 11 year old girl, who was raped by her mother's partner, and is now pregnant. Teresa Valdes, head of a Women's Rights group in Chile and Guadalupe Marengo from Amnesty International discuss the issue.
Dame Stephanie 'Steve' Shirley
Dame Stephanie "Steve" Shirley is a philanthropist and The Shirley Foundation is one of the top 50 grant-giving foundations in Britain. Dame Stephanie arrived in Britain on the Kinderstransport in 1939, aged five. In 1962, she founded her first software company. She employed only women until the 1975 Sex Discrimination Act made it illegal to do so, and went by the name "Steve" to open doors in the male-dominated business world. She retired in 1993 with an estimated £150 million fortune. Dame Stephanie now concentrates on philanthropic work and donates to autism research, which she was drawn to through her late son Giles, who was autistic.
Marianne, Symbol of La Republique
She adorns French stamps, is represented in statues in every town hall in France, and even holds the red, white and blue together in the official government logo – but who is Marianne and why has President Hollande's recent update of her image caused quite such scandal in the present government?  Dr Maud Bracke, from the University of Glasgow tells the story of France's most recognised 'woman of the people'.
Baby Talk
The moment your baby utters their first words is a magical time for every parent. But what is the typical age when that should happen and how do you know if your child's language skills are developing at a 'normal' rate? Nicola Lathey is a speech therapist  and co-author of 'Small Talk'.
Credits
| Role | Contributor |
| --- | --- |
| Presenter | Jenni Murray |
| Producer | Emma Wallace |