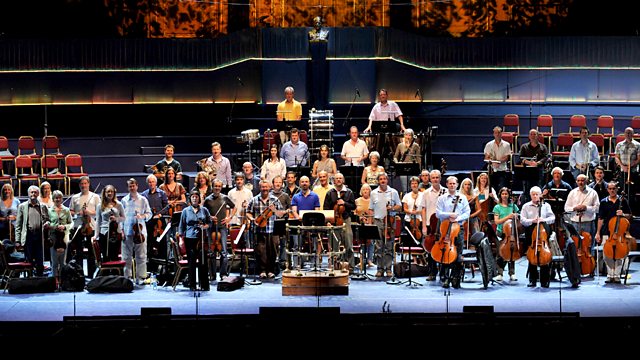 Prom 24: British Light Music
with Penny Gore - and a second chance to hear last night's BBC Prom when the BBC Concert Orchestra and Barry Wordsworth celebrated British music with a programme which included pieces written by Walton and Coates used at the coronation of her Majesty the Queen in 1953.
Presented by Petroc Trelawny and Ken Bruce at the Royal Albert Hall, London
Bantock: Pierrot of the Minute
Elgar: Nursery Suite
Arnold: Concerto for two pianos (three hands)
c. 2.55pm
Walton: Crown Imperial
Coates: The Three Elizabeths
Arnold: Four English Dances, Set 1, Op. 27
Langford: Medley 'Say it with Music'
Noriko Ogawa (piano)
Kathryn Stott (piano)
BBC Concert Orchestra
Barry Wordsworth (conductor)
The BBC Concert Orchestra and their Conductor Laureate Barry Wordsworth demonstrate their versatility in a mixed programme celebrating British music of different styles, including pieces written by Walton and Coates used to celebrate the coronation of Queen Elizabeth II 60 years ago, and Elgar's Nursery Suite, dedicated in 1931 to the Princesses Margaret and Elizabeth and their mother Elizabeth. The orchestra are joined by pianists Noriko Ogawa and Kathryn Stott in Malcolm Arnold's unashamedly attractive concerto and the programme ends with a celebration of old BBC radio signature tunes woven together in a medley by master arranger Gordon Langford.
Plus highlights from the 2012 Cheltenham Festival.
Last on