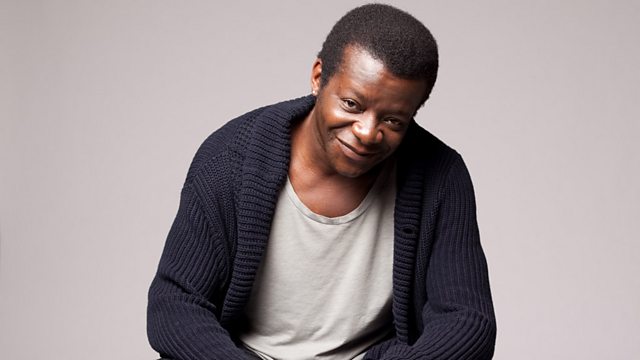 Summer Season of Guest Editors with Stephen K Amos
The Radio 2 Arts Show Summer Season of Guest Editors continues with Stephen K Amos
With special guests from the world of the arts......actor and director Don Warrington, star of Book of Mormon Chris Jarman, comedian Rhys James and cabaret trio The Segues Sisters
Plus the latest film and theatre reviews
The Radio 2 Arts Show Summer Season of Guest Editors continues next week with Will Gompertz.
Last on
Don Warrington talks about Rising Damp and his career in the arts.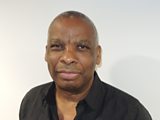 There are some actors you struggle to place even when told who they are and what they've been in. And then, there's a select few you recognise from the moment you hear their voice. Don Warrington is very much in the second camp. With a delivery described as "gliding over you like a warm blanket", his career on stage and screen spans more than 40 years.
Robbie Collin reviews latest films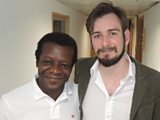 1. The Wolverine
Director: James Mangold
Cast: Hugh Jackman, Famke Jansson, Will Yun Lee
The most iconic character in the X-Men universe embarks upon on an epic journey in modern-day Japan in The Wolverine.  Inspired by the celebrated Marvel comic book arc, Logan (HUGH JACKMAN), the century-old mutant known to the world as Wolverine, is lured to a Japan he hasn't seen since World War II – and into a shadowy realm of Yakuza and Samurai.  Suddenly finding himself on the run with a mysterious, beautiful heiress and confronted for the first time with the prospect of true mortality, he will be pushed to the physical and emotional edge – further than he's ever been. On a perilous journey to rediscover the hero inside, Logan will be forced to grapple not only with powerful foes, mutant and human alike, but with the ghosts of his own haunted past, as well. As The Wolverine crosses his adamantium claws with Samurai swords, striking out through a maze of love, betrayal and honour, he will truly come to know the price of a life without end.   
The Wolverine is in cinemas now.
2. Frances Ha
Director: Noah Baumbach
Cast: Greta Gerwig, Mickey Sumner, Adam Driver
Frances lives in New York, but she doesn't have an apartment. She says she is a dancer but she is only an apprentice for a dance company. She shares a room in Brooklyn with her best friendish-lesbian-lover Sophie, and appears to live as if it were her first year out of college. But even with her free-spirited, seemingly light-hearted outlook, it's clear that she wants so much more and she will jump in headfirst to achieve them.
 Frances Ha is in cinemas now.
3. Blackfish (documentary)
Director: Gabriela Cowperthwaite
Cast: Samantha Berg
Using never-before-seen footage and interviews with trainers and experts, we delve into the psychological turmoil Orcas go through when they are captured in the wild and then held in captivity. The Killer Whale Tilikum has been responsible for the deaths of three trainers, including Dawn Brancheau at San Diego's Sea World in 2010. This case was discredited as a horrific accident and a mistake of the trainer's own doing and was thus covered up. Must we rethink our relationship with nature?
Blackfish is in cinemas now
4. Side Effects (dvd & blu ray)
Director: Steven Soderbergh
Cast: Channing Tatum, Rooney Mara, Jude Law, Catherine Zeta Jones, Vinessa Shaw
Emily (Rooney Mara) and Martin (Channing Tatum) are a successful New York couple whose world unravels when a new drug prescribed by Emily's psychiatrist (Jude Law) intended to treat anxiety has unexpected and dangerous side effects. From director Steve Soderbergh comes a riveting psychological thriller where neither the symptoms nor the cure are quite as straightforward as they seem.
Side Effects is out on DVD and Blu Ray now
Chris Jarman talks about his role in the runaway West End success The Book of Mormon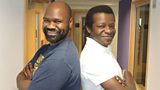 As endorsements go, "God's Favourite Musical" takes some beating. It's certainly more impressive than "two stars" from Bella magazine. . But then, The Book of Mormon doesn't really do understatement. Following an award-gobbling launch on Broadway, it transferred to London earlier this year and has been playing to sell-out crowds ever since. Chris Jarman is one of the show's stars and plays an African General whose name is frankly far too rude to say on-air.
Comedian Rhys James speaks ahead of his latest appearance at the Edinburgh Fringe Festival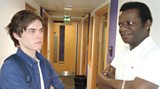 Twenty-one year old Rhys James has been described as one of the fastest rising young talents around. First taking to the stage in 2009, Rhys has performed at student competitions such as Comedy Central's Funniest Student and has written for Russell Howard's Good News. Next month he will make his third appearance at the Edinburgh Fringe Festival, this time in his own show Rhys James Prepares.
Michael Billington reviews the latest theatre productions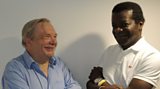 1. Barnum at Theatre in the Park, Chichester
While the main theatre in Chichester is closed for refurbishment, they've erected a temporary, tent-like structure to replace it. And that's the ideal setting for this revival of the 1980 musical about the 19th century circus-man and self-styled Prince of Humbug, PT Barnum.
2. Gabriel at Shakespeare's Globe, London
This is a real curiosity. Inspired by the star trumpeter, Alison Balsom, it's a mixture of short plays, poetry and music showing how the 1690s was the golden age for the valveless trumpet. Samuel Adamson supplies the words and Alison Balsom gets to blow her own trumpet.
3. A Season In The Congo at the Young Vic.
This is a big epic play by the Martinique playwright, Aime Cesaire, about the downfall of Patrice Lumumba who was elected as the Congo's first prime minister in 1960 and who was assassinated six months later. Chiwetel Ejiofor plays Lumumba and Joe Wright, best known for films such as Atonement and Anna Karenina, directs.
4. Daytona at The Park Theatre.
This is a new play by actor Oliver Cotton currently in Passion PLay in the West End. Hard to say too much without giving it away. But it's set in Brooklyn in 1986 and shows an elderly Jewish couple, Joe and Elli, whose peaceful life is disturbed when Joe's brother, Billy, turns up after 30 years claiming to have found a Nazi war-criminal.
The Segue Sisters perform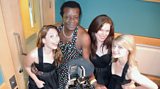 When you hear the unmistakeable close harmonies of the Andrews Sisters, your mind instantly conjures up images of Wartime dances, with American GI's sweeping jitterbugging local girls off their feet. But what if those sweet voices then slipped effortlessly into a heavy metal refrain of Metallica or the grunge of Nirvana?  Well that's exactly what the Segue Sisters do. The performing trio take their cue from the great boogie and swing eras and then twist them into something much more silly.