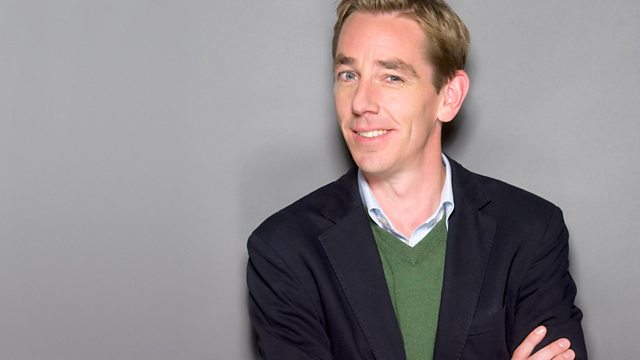 Ryan Tubridy sits in
It's another Foody Thursday on Drivetime! Ryan is joined by regular gastrognome, Nigel Barden. Plus, Matt Williams has the latest sport and Alice Baxter brings us the money news.
Last on
Nigel's Tiramisu Ice Cream Cake
Based on the recipe by Bill Granger
 
Perfect for summer days when you don't want to be in a hot kitchen!
 
Serves 6–8
Prep time: 15 mins + 4hrs minimum in freezer + 1/2 hr in fridge
 
Ingredients
180ml strong black coffee (can be decaf)
70 ml Kahlua or other coffee liqueur (Tia Maria)
70 ml Marsala
300g or 1&1/2 packs Savoiardi, or sponge finger biscuits
1L good vanilla ice cream
1L good coffee ice cream
150g dark chocolate grated (easiest to do this with fridge cold chocolate using a potato peeler)
You'll need a square 20cm cake tin lined with cling film, overlapping the edge – if you damp down the cake tin first, the cling film is much easier to stick down!
 
Method
- Move ice cream from freezer to fridge for 1/2 hr to soften; if it's a hot day & the ice cream is quite soft, then no need to leave in fridge for 1/2 hr.
- Combine the coffee, Kahlua & Marsala together in a bowl.
- Dip 2 sponge fingers at a time into the mixture (to avoid them becoming too soggy) & use them to line the base of the tin.
- Empty the coffee ice cream into a mixing bowl & beat briefly until smooth (you can use a Kitchen Aid with the paddle attachment, beat the ice cream on low speed for a few seconds until smooth).
- Using a palette knife or spatula, spread a generous even layer of ice cream on the soaked sponge fingers.
- Layer a 2nd layer of sponge fingers over the ice cream.
- Beat the vanilla ice cream as you did the coffee ice cream, then spread this evenly over your soaked sponge fingers.
- Put your completed cake in the freezer for at least 4 hrs before serving.
1/2 hr before serving, place the cake in the fridge to soften.
- Using the cling film, carefully lift the cake out of the tin, peeling the cling film off as you place the cake on a serving platter.
- Scatter generously with grated chocolate before serving.
 
Nigel's Top Tips
- For a party, double the ingredients & use a 25cm square tin.
- For a more chocolaty hit, grate some of your chocolate over the first layer of coffee ice cream.
Today's Most Popular Tracks
Most added tracks from this show