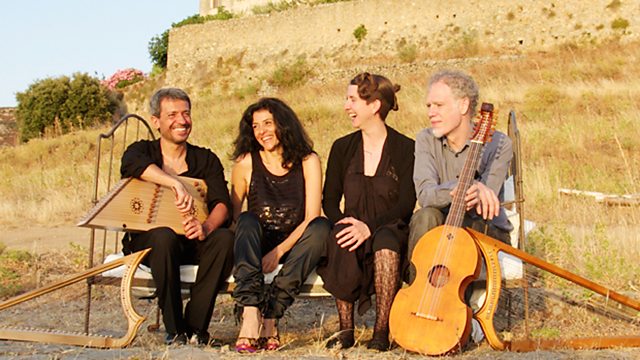 York Early Music Festival: Ensemble Medusa
Catherine Bott presents music performed at the 2013 York Early Music Festival featuring the group "Ensemble Medusa" in a revealing programme of works reflecting the life and times of Lucrezia Borgia. The figure of Lucrezia has gained notoriety due to the Borgias' reputation for ruthlessness and excess. Yet Lucrezia was a strong woman who maintained a passion for all of the arts.
Including music by Juan del Encina, Guillaume Dufay, Niccolo Patavino, Rossino Mantovano and others.
ENSEMBLE MEDUSA
Patrizia Bovi: director,voice, harp
Crawford Young: lute, viola da mano
Leah Stuttard: gothic bray harp
Gabriele Miracle: hammered psaltery, percussion.
PLAYLIST:
*Poetic texts (ottave) recounting the life of Lucrezia, written by Valeria Molini, are indicated with an asterisk
Rome 1480–98
*Possan le Muse darmi voc' e core
(text sung over music by ?Benedetto Gareth c.1450–1514)
Performers: Ensemble Medusa, Patricia Bovi (director/voice/harp)
Composer: Hayne van Ghizeghem:
Amours amours
Performers: Ensemble Medusa, Patricia Bovi (director/voice/harp)
Composer: Juan del Encina
Title: Levanta Pasqual
Performers: Ensemble Medusa, Patricia Bovi (director/voice/harp)
Marriage to Giovanni Sforza, 1493
*Fanciulla mai non fu ma infant' e sposa
(text sung over music by ?Benedetto Gareth)
Performers: Ensemble Medusa, Patricia Bovi (director/voice/harp)
Composer: Anonymous
Title: Bassadanza
Performers: Ensemble Medusa, Patricia Bovi (director/voice/harp)
Composer: Guillaume Dufay
Title: Departes vous male bouche
Performers: Ensemble Medusa, Patricia Bovi (director/voice/harp)
Marriage to Alfonso d'Aragon, 1498
*Nuovi sponsal' le recano gran gioia
(text sung over music by ?Benedetto Gareth)
Performers: Ensemble Medusa, Patricia Bovi (director/voice/harp)
Composer: Niccolo Patavino
Title: Non è tempo di tenere
Performers: Ensemble Medusa, Patricia Bovi (director/voice/harp)
Composer: Domenico da Piacenza
Title: Pizochara
Performers: Ensemble Medusa, Patricia Bovi (director/voice/harp)
Assassination of Alfonso d'Aragon, 1500
Composer: Henricus Isaac
Title: Morte che fai?
Performers: Ensemble Medusa, Patricia Bovi (director/voice/harp)
Composer: Juan de Urrede
Title: Nunca fue pena mayor
Performers: Ensemble Medusa, Patricia Bovi (director/voice/harp)
Composer: Anonymous / Crawford Young (instrumental elaboration)
Title: Ahimè sospiri - 'cantasi come' lauda (contrafactum)
Performers: Ensemble Medusa, Patricia Bovi (director/voice/harp)
Composer: Anonymous
Title: Ahimè sospiri (ornamented version)
Performers: Ensemble Medusa, Patricia Bovi (director/voice/harp)
Rivalry with Isabella – games and celebrations at court
*Ella mi guarda ed è''si furiosa
(text sung over music by ?Benedetto Gareth)
Performers: Ensemble Medusa, Patricia Bovi (director/voice/harp)
Composer: Rossino Mantovano
Title: Perché fai donna el gaton
Performers: Ensemble Medusa, Patricia Bovi (director/voice/harp)
Composer: Loyset Compere
Title: Scaramella
Performers: Ensemble Medusa, Patricia Bovi (director/voice/harp)
Composer: Anonymous
Title: Tientalora
Performers: Ensemble Medusa, Patricia Bovi (director/voice/harp)
Final retreat into spirituality and solitude
*Cavami l'alma fora dai peccati
(text sung over music by Marchetto Cara)
Performers: Ensemble Medusa, Patricia Bovi (director/voice/harp)
Composer: Tromboncino
Title: Vergine bella
Performers: Ensemble Medusa, Patricia Bovi (director/voice/harp)
*Ora che dal viso tu m'hai tolto
(text sung over music by Marchetto Cara)
Performers: Ensemble Medusa, Patricia Bovi (director/voice/harp)
Last on