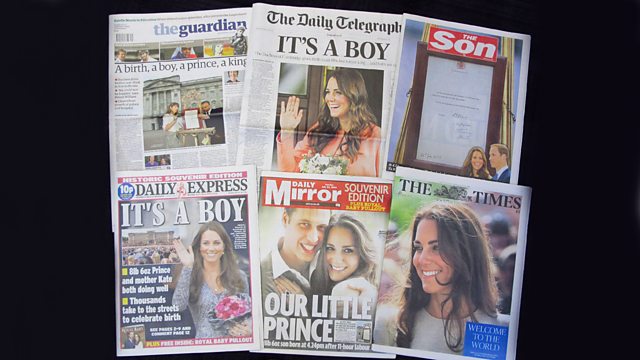 23/07/2013
Morning news and current affairs with Justin Webb and Sarah Montague, including:
810
The Duchess of Cambridge has given birth to a baby boy, Kensington Palace has announced. The author Lady Antonia Fraser and broadcaster William Shawcross analyse the news.
0818
The Chancellor, George Osborne, has called house builders and mortgage lenders to a meeting to discuss how the second part of the Help to Buy scheme will work. Sajid Javid, the economic secretary to the Treasury, defends the scheme against criticisms that have been levied against it.
0823
Terry Hayes, the man behind Mad Max 2, Dead Calm and Bangkok Hilton has spent the last few years writing a 700-page thriller called I Am Pilgrim. The BBC's arts editor Will Gompertz hears why he has strayed from the film industry in Hollywood.
Last on
A rundown of stories from Tuesday 23 July including programme highlights and comment.
So you think you know the Today programme?