Add music you love and enjoy it with
Cornershop

Brimful Of Asha (Remix)

The 1999 Brit Awards (Various Artists, Columbia

(CD Single), Southern Ground, 1

Shades Of Soul (Various Artists), Global Television

Tears for Fears

Everybody Wants To Rule The World

Fantastic 80's - 3 (Various Artists), Sony Tv/Columbia, 4

Diana Ross & The Supremes - 40 Motown, Polygram Tv

Greatest Hits Of The 70's (Various), EMI

The Banana Splits

The Tra La La Song (One Banana, Two Banana)

Television's Greatest Hits Vol. 5: In Living Color (Various Artists), TVT Records

Fantastic 70's (Various Artists), Sony Tv/Columbia

Thea Gilmore

Start As We Mean To Go On

(CD Single), Fullfill Records, 1

Cliff Richard - Private Collection, EMI

T. Rex

Hot Love

Electric Warrior (Deluxe Edition), A&M, 13

(CD Single), Play It Again Sam, 1

Now 1991 - The Millennium Series, Now

Cool Couples (Various Artists), Sanctuary

(CD Single), East West Records

The Best Of Suzanne Vega, A&M

Woman (Various Artists), Polygram Tv/Sony Tv

The Best Of The Doors, Elektra

Billy Ocean

Red Light Spells Danger

Billy Ocean - Love Is For Ever (L.I.F, Jive

The Very Best Of Neil Sedaka, Universal Music Tv

(CD Single), Interscope, 1

Keane

Everybody's Changing

(CD Single), Transcopic Records

Peter Skellern - You're A Lady, London
Pause for Thought

From Rev Ruth Scott, an Anglican vicar in Richmond.

After months of speculation, the Duke and Duchess of Cambridge have produced their first-born son. Apart from sending them the warm congratulations appropriate when any longed-for baby is born, I'm at something of a loss as to what to say. I know this will be a much discussed arrival. Opinions and advice about new babies and parenting will come in from all angles. Everyone's an expert - except those of us who have been humbled by the actual experience of being parents, and simply want to be supportive and encouraging because we know just how difficult it can be. The circumstances of this royal baby's birth highlight what is true for all babies - that each is born into a context over which they have no control, to one or more parents whose own experiences, for good and ill, will shape how they raise their child and the expectations they and others place upon their vulnerable and dependent little bundle. For this particular baby boy the privileges of his birth will be countered by the pressures of constant public attention that go with being a royal heir. On a more personal level, tiny as he may be, he will sometimes take his competent parents to the end of their tether, connecting them with feelings of inadequacy and powerlessness. He will also bring them some of their most profound moments of joy. This little prince will live on into a future of which his parents will see only a part, and his grandparents cannot imagine. Like any newborn baby his is the 'being' in which past, present and future, somehow come together. Such emergence of life is awe-inspiring. So to the new Royal parents, and to mums and dads across the UK who have also given birth in the last 24 hours, I say not only, "Congratulations!" but also, "Stop for a few minutes to take in this life you have brought in to being. In the eyes of your baby you will see the echo of eternity."

Pause for Thought

From Father Christopher Jamison - Benedictine Monk.

As many people's attention here has been on the birth of the royal baby many people like myself have also been focusing on events in Rio…here we'll find Pope Francis on his first overseas trip as Pope. He's there for the world's largest youth festival, World Youth Day, and a million young people from all round the world have gathered there to celebrate it with him. People love festivals, whether it's rock at Glastonbury or stand up on the Edinburgh fringe or prayer in Rio. So why are festivals such great events? I think it's because festivals are all about shared humility. Humility is a word that comes from humus meaning earth. Whether it's the mud at Glastonbury or sleeping on the church hall floor in Rio, festival goers all cheerfully end up closer to the earth, literally more grounded. Equally, the big stars are brought back down to earth because they're alongside other great names and can't just rely on their reputation; they have to offer the audience something special. This humble style suits Pope Francis really well. He plays down the protocol and physically reaches out to touch the crowd. So this evening he'll open a drug rehab clinic in Rio, touching people in real distress and he'll invite the young to go to venues across Rio to listen to other remarkable international speakers. Great festivals help us all to be more grounded and I'm looking forward to some of that here in England. For those who can't make it to Rio, there's World Youth Day at Home this weekend at Aylesford in Kent, where I'm going to be with a thousand other people having our own celebration and watching some of the Rio events on a big screen. Grounded in Rio, grounded in Kent: it's all the same really!
BBC Playlister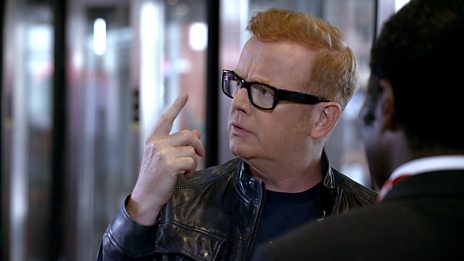 Chris has a song stuck in his head - but what is it? That's why he needs BBC Playlister!
500 WORDS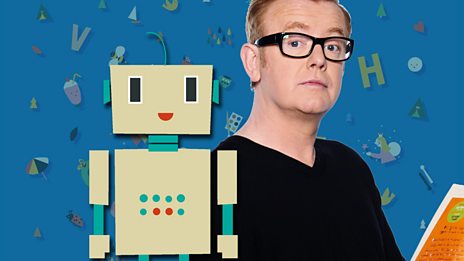 Featuring celebrity videos and top writing tips!
Podcast
Catch up with the latest Breakfast fun with Chris Evans. Hear the best stories and the biggest…