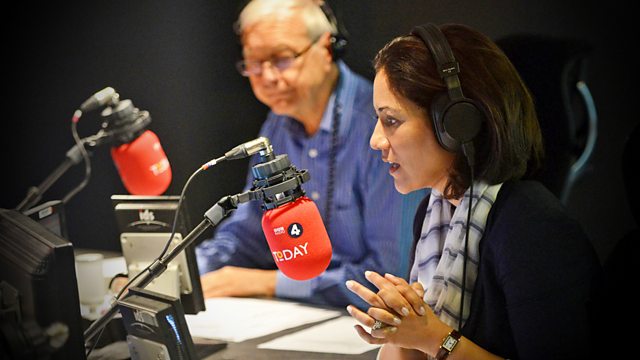 22/07/2013
Morning news and current affairs. Including Sports Desk; Weather; Thought for the Day.
Last on
A rundown of stories from Monday 22 July including programme highlights and comment.
Life Inside 'Islamic State': Diaries
In today's programme
Every household in the UK will have pornography blocked by their internet provider unless they choose to receive it. Chris Froome has won the 100th Tour De France. And why is the US so much better than Britain at producing successful TV dramas?
0900

Our editors today were Heba Ayoub and Briony Harris. Coming up next on Radio 4, Steve Hewlett presents Privacy Under Pressure. Good morning.




0855

The prime minister has deflected questions about whether he has discussed the issue of tobacco packaging with the Tory strategist Lynton Crosby. The BBC's Michael Cockerell, and Sheila Gunn, political press secretary to former prime minister John Major, examine whether politicians should answer questions more openly.




0843

Superman and Batman are to appear together in a movie and it has been announced that Henry Cavill has agreed to play Superman. Stephen Eyre, a comic book devotee and president of world-of-superheroes.com, and Mary Ann Johanson, a film critic, discuss whether the two characters will work together in a movie.




0837

EU foreign ministers will meet today to consider whether the militant group Hezbollah should be declared a terrorist organisation. Alastair Crooke, a former EU mediator in the Middle East, and Sir Menzies Campbell, is a member of the foreign affairs select committee, discuss whether the group should be designated terrorists.



See more live updates